Corporate
| July 20, 2020
Our 50 Year Milestone

Milestones provide an important opportunity to pause, take stock of the past and look ahead to the challenges and opportunities the future holds.
For Freddie Mac, such an opportunity could not come at a better time. As our company celebrates 50 years since its creation on July 24, 1970, we stand on the threshold of a new stage in our evolution as an organization, leading an industry poised for fundamental transformation and playing a critical, stabilizing role during a time of extreme volatility for our country.
Created by Congress as part of the Federal Home Loan Mortgage Corporation Act of 1970 to ensure competition in the secondary mortgage market, the Federal Home Loan Mortgage Corporation was designed to ensure robust, nationwide access to mortgage credit for borrowers across the nation. Our start in 1970 was inauspicious, purchasing just eight loans during our first year in the market. But by the end of 1973, the company financed nearly 36,000 loans across 49 states and "Freddie Mac" was born.  
The years that followed saw twists and turns as well as highs and lows. However, our contributions to the housing market and the economy during those 50 years are clearly evident. We made the American Dream of homeownership more accessible and available for qualified borrowers. We have helped create, preserve and maintain more quality, affordable rental properties in every state across the nation. We have helped keep interest rates low and preserve the 30-year fixed-rate mortgage, the cornerstone of homeownership in the U.S. And we did it all by keeping mortgage money flowing for borrowers, lenders and investors around the globe.
The numbers speak for themselves: Over the last five decades, we have provided more than $10 trillion to the mortgage market and helped make home possible for owners and renters nearly 80 million times. This includes helping nearly 67 million families attain homeownership and nearly 11 million more access quality rental housing.
As we have advanced the ball for America's owners and renters, so too have we taken remarkable steps to foster innovation and evolution in the mortgage market itself. We issued our first "mortgage-backed security" in 1971, forever changing the way the market was funded. In the decades that followed, we helped launch industry innovations again and again, such as collateralized mortgage obligations and credit-risk transfer (CRT), among others. I'm particularly proud of our innovations in CRT, which transfers risk on the mortgages we purchase to the private sector, protecting our company and American taxpayers. We pioneered CRT with the "K-Deal" for Multifamily loans, and then proceeded to develop  unique CRT structures in the Single-Family business, where we again led the industry.
We have also led the way with new technologies and analytic capabilities, such as the first successful automated loan scoring system, Loan Prospector, as well as one of the first and still most widely used automated valuation models, Home Value Explorer, which now serves as a foundational component to our Automated Collateral Evaluation capability. In recent years, we also helped create the Uniform Mortgage Backed Security, which has made the markets more liquid and lowered costs for owners and renters.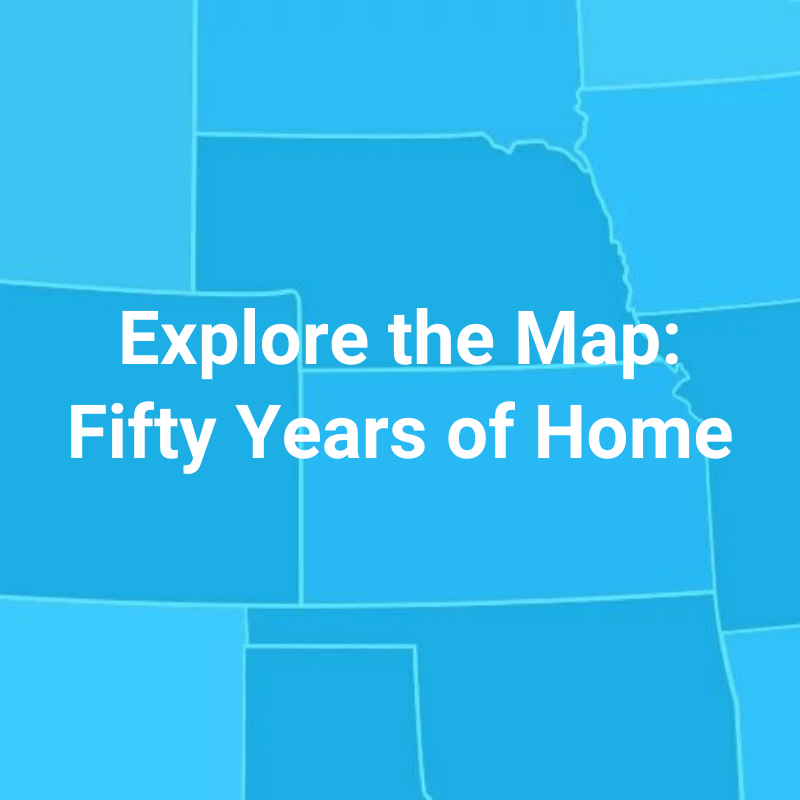 To recognize this 50-year commitment to our mission, we have launched a new interactive map that showcases the indelible impact we have made across all 50 states.
Some have lamented that our company is reaching this milestone during a global pandemic. However, I believe it's an important reminder of our critical mission and the vital countercyclical role we were created to play. Fifty years ago, our founding documents called for us to provide liquidity, stability and affordability to the U.S. housing market in any economic climate. Carrying out that mission from coast to coast and during good times and bad, is exactly what we are doing—and have always done.
Over the past five decades, serving that mission has been our primary goal. We have financed more than 20 million homes1 and 5.4 million rental units2 that are affordable to low- and moderate-income families. We have played a pivotal role in helping more than 5.6 million families buy their very first homes.3 And in times of trouble, we have helped nearly 2 million homeowners avoid foreclosure.4 We stand firm in our commitment to not only help families get into a home, but stay in that home.
We know that this pandemic will exacerbate many of the housing stock supply-driven affordability challenges our nation was already facing, and that this work is going to be even harder in the months to come. Here and now, we are already focused on taking significant steps to provide relief for borrowers, renters and lenders affected by COVID-19, while continuing to purchase and securitize loans in a volatile market.
As we navigate this crisis and as we look to the next 50 years, we are continuing to explore new opportunities to move housing forward responsibly. That means more than just keeping people in their homes: it means finding new ways to address supply issues by lowering the cost of building and preserving housing, continuing to reach underserved communities through the financing of rural and manufactured housing, looking toward energy-efficient housing and identifying incentives for impact investors and private companies to contribute to the solution.
It also means investing in technology and in new ways of making the housing industry smarter, faster and more efficient. We've introduced new, highly successful and widely adopted products that have helped automate underwriting, assess borrower assets, expedite appraisals and help lenders originate mortgages digitally. And we are working across our company to bring additional digital tools to market that will make housing more efficient and less expensive. I'm proud to lead a company that has been, and will continue to be, the leader in housing innovation.
Finally, we are placing a strong business focus on working to address the racial and social inequities that exist in the housing market by continuing to make home possible for tens of thousands of homebuyers and renters across all markets and dimensions, including race, ethnicity, sexual orientation and ability. And we remain committed to embedding diversity and inclusion in every corner of the business and the industry, including our hiring and vendor practices.
When I reflect on 50 years of Freddie Mac and my two decades at this company, one thing stands out: Every employee is passionate about our mission and our work. We all recognize that home is more than walls and a roof. It is a safe, stable place where we share many of life's defining moments. Our mission is not just why we do business, it is part of our DNA. From supporting the stability of the housing market to promoting housing affordability for families and communities across the country, everyone at Freddie Mac is focused on leading the industry forward. This is why I am so honored to be leading this organization in its 50th year of making home possible.
1Since 1990
2Since 2010
3Since 1990
4Since 2001
---
©2022 by Freddie Mac.