Multifamily
| August 8, 2019
Our LIHTC Equity Investments Came Just in the Nick of Time

Analysis predicted tax reform would slash affordable housing investment. Our $500 million boost may be one reason that never happened.
Shortly before their winter recess in 2017, members of Congress passed, and the president signed into law, a major overhaul of the federal tax code that reduced the corporate rate from 35% to 21%. One consequence of this reform that received little attention was the effect on affordable housing investments, specifically those funded through the Low-Income Housing Tax Credit (LIHTC) program. Without taking a position on the new tax law, it's worth examining its impact on the LIHTC investment market.
LIHTCs are the primary tool used by the federal government to encourage affordable housing development. The program provides state housing agencies with federal tax credits, which are then allocated to eligible low-income housing developments. The credits later flow to investors who partner with affordable housing developers and make equity investments in the properties targeted by the state housing agencies.
Tax reform matters in this context because the corporate tax rate affects the value of a LITHC investment. A lower rate leads to lower LIHTC yields, which is why analysts estimated that the new 21% corporate rate would significantly reduce the value of LIHTC investments. Novogradac put this reduction in value at about 14%, translating to at least $1.7 billion in lost LIHTC equity investments annually and a reduction of more than 200,000 affordable rental homes over 10 years.
These worst fears have not been realized, and one potential reason why is the re-entry of Freddie Mac and Fannie Mae into the LIHTC equity investment space in 2018. Just as the new tax rates took effect, the agencies were authorized to invest $1 billion per year ($500 million each) in LIHTC equity. Last year we successfully reached our $500 million goal, and we're on pace to do so again in 2019.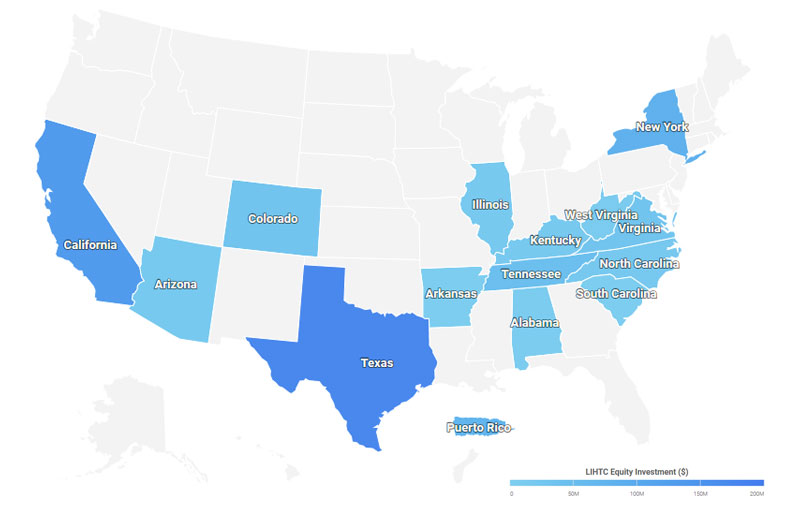 You can find details on all these investments through our new interactive mapping tool, available here.
To ramp up quickly, Freddie Mac worked to initiate six proprietary LIHTC syndicator funds, and as of the first quarter of 2019, we have closed on more than $668 million in LIHTC equity investments across 14 states and Puerto Rico. These investments are supporting more than 5,000 homes for low-income tenants.
An important characteristic of these investments is that many are in underserved areas where typical equity investors find it hard, if not impossible, to invest.
Take, for instance, our work in rural Middle Appalachia, which has historically struggled with high levels of poverty, substandard housing conditions, economic instability and infrastructure challenges. Our research shows that although LIHTC properties support a small percentage of all households in this region compared with the nation, they support a relatively high percentage of in-region multifamily renters. In short, LIHTC properties play a vital role in providing affordable rental housing for rural Middle Appalachia tenants who would otherwise be severely rent burdened.
We see our investments in this region as vital and they are core to our Duty to Serve mission.
One example is our $5.7 million Brown Proctor investment in Winchester, Kentucky. This investment is supporting the rehabilitation of a turn-of-the-century hotel, creating 49 new homes for low-income tenants.
Another example is Jevue Club Apartments in New Martinsville, West Virginia, where Freddie Mac's $4.6 million investment is modernizing 40 two-bedroom and one-bathroom apartments. Also in West Virginia, our $6.4 million investment for Keyser Greene will support 38 units in a town where affordable housing options are limited.
Elsewhere in the country, we have invested in multiple projects aimed at curbing homelessness. Skid Row Flor 401 in Los Angeles provides supportive housing to veterans and other special needs residents.
We've also targeted areas hard hit by natural disasters. Caguas, Puerto Rico was devastated by Hurricanes Irma and Maria. There we are investing in the Jose Gautier Benitez Family and seniors properties designed to withstand future storms.
In sum, our LIHTC equity investments are finding their way to communities in need of affordable housing throughout the country.
We entered the market at a critical time, when many feared a drop-off in LIHTC equity investments, and working with our partners we've created or sustained thousands of housing units affordable to low-income individuals as a result.
---
©2022 by Freddie Mac.