Multifamily
| February 4, 2020
Another Strong Year for Multifamily

Freddie Mac recently released its Multifamily Outlook, which projects that the overall size of the multifamily origination market will continue to grow, reaching $390 billion in 2020. That's after a record year in 2019, in which we estimate originations will hit $369 billion, up nearly 9% over 2018. To say things have changed since 2010, when the market was a mere $69 billion, would be an understatement.
As the market has grown, Freddie Mac Multifamily and other market participants have grown with it.
In 2019, Freddie Mac's total Optigo® production volume was $78.4 billion, including $500 million in LIHTC Equity Investments. This represents about 21% of the overall multifamily origination market, which is right in line with our average market share throughout the past decade.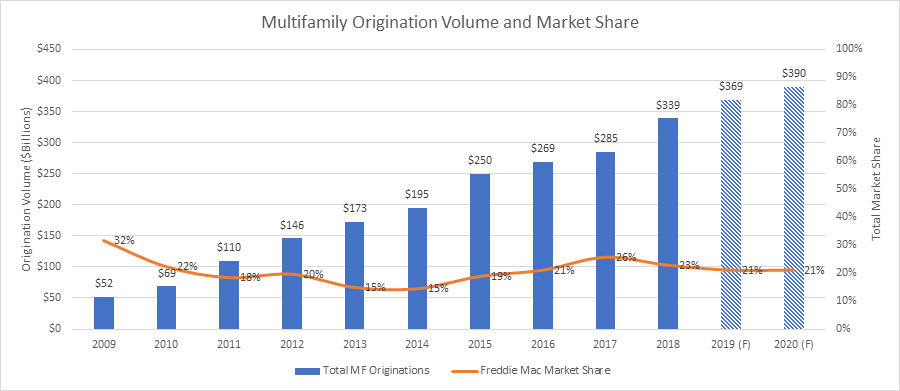 How that volume breaks out across our Optigo® offerings tells another important story about our mission focus on affordability.
Last year, we set a new record with our Targeted Affordable Housing business, financing $10.1 billion in volume for these rent-restricted properties. That's a 25% increase from the record we set in 2018.
Our Small Balance Loan (SBL) business had another strong year with $6.7 billion in volume. This figure includes SBL structured transactions completed by our TAH group. Roughly 93% of these units were affordable to households that earn at or below 100% area median income.
Our Green Advantage® program, which provides incentives to reduce energy and water consumption and lower tenant utility bills posted $15.0 billion in volume.
Seniors Housing Loans (including seniors' apartments) saw an uptick in volume to $5.4 billion. 84% of the units financed were affordable to seniors earning area median income or less.
View our lender appreciation page to see how our network of Optigo® lenders stacked up in 2019.
Record Securitizations
Along with our growing production volume has been a growth in our securitization volume. Our 2019 Optigo® securitizations totaled $75.5 billion, including $61.5 billion in K-Deals, $6.9 billion in SB-Deals and $4.0 billion in PC issuance. Freddie Mac Multifamily generally transfers approximately 90% of credit risk on the 95% of new acquisitions that it securitizes. (See FHFA's Credit Risk Transfer Progress Report)
We achieved this record-breaking year for securitizations while maintaining our market-leading underwriting standards, which have resulted in virtually zero credit losses in more than five years.
From origination to securitization, we are leaving no stone unturned when it comes to reducing risk to the American taxpayer and providing private investors with predictable and stable returns.
Looking Ahead to 2020
As we look to the new year, Freddie Mac Multifamily is poised to continue leading the way.
Since Q4 of 2019, we have been operating under a new volume cap structure, which allows for $100 billion in production over five quarters. Taking our fourth quarter volume and current market trends into account, Freddie Mac Multifamily is set to maintain its market share in 2020, with approximately $82.5 billion in volume remaining within our current cap.
Along with the new structure is a requirement that a minimum of 37.5% of our business volume be "mission-driven," which consists of what we formerly called "uncapped," minus our Green Advantage volume.
As a mission-focused business, we see this figure as a floor not a ceiling, and we're aiming to surpass this target in 2020. Mission-driven business made up 34% of our 2018 volume and 39% in 2019. In 2020, we expect this growth trend to continue.
In 2020, we are confident in the fundamentals of the multifamily and that our business can sustain whatever the market brings. We're going to continue working to serve our mission and help lead our industry forward.
---
©2022 by Freddie Mac.