Forecast
| April 14, 2021
Quarterly Forecast: As the Economy Recovers, the Housing Market Remains Healthy While Mortgage Rates Move Up
Availability of the vaccine continues to improve, and COVID-19 restrictions are easing therefore sparking economic growth. With the passage of the American Rescue Plan Act of 2021, which included payments of up to $1,400 for individuals, $2,800 for married couples plus $1,400 for each dependent, consumer confidence in March reached the highest level since the start of the pandemic. The labor market is also recovering, adding a better than expected 916,000 jobs in March, the largest monthly gain since August 2020. However, the labor market still needs to add 8.4 million jobs in order to get back to the pre-pandemic level. As the economy continues to improve, we expect conditions to remain generally favorable for the housing and mortgage market through 2022.
However, there is a potential headwind that could slow housing market activity; higher mortgage interest rates could dampen demand and cool off the single-family housing market. We forecast that mortgage rates will continue to rise through the end of next year. We estimate the 30-year fixed mortgage rate will average 3.4% in the fourth quarter of 2021, rising to 3.8% in the fourth quarter of 2022.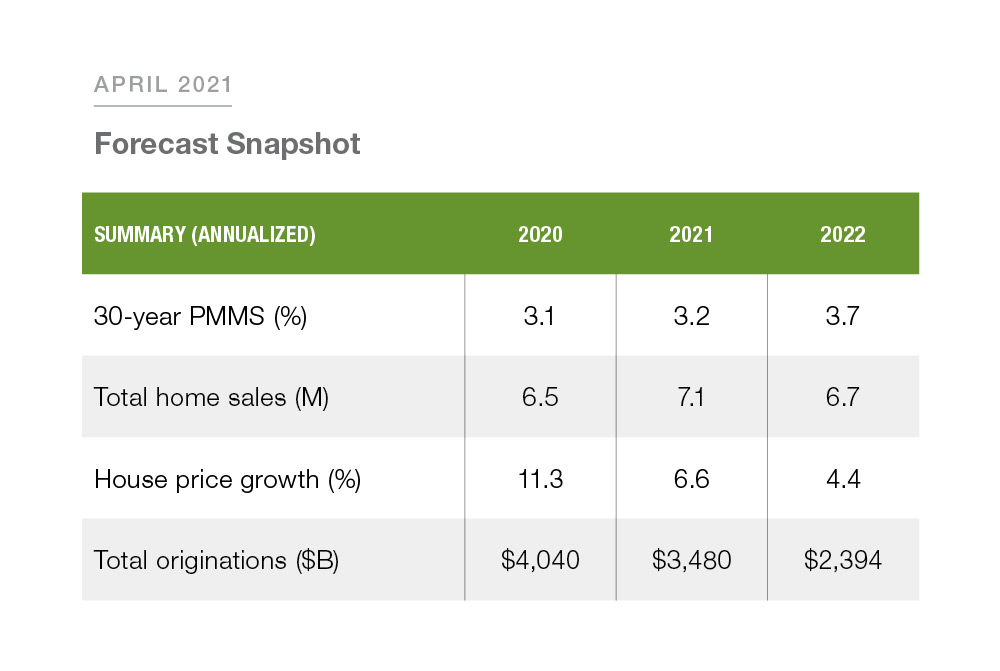 While higher mortgage rates will help slow the pace of home sales and moderate house price growth, we expect overall housing market activity will remain robust. Our forecast has total home sales, the sum of new and existing home sales, at 7.1 million in 2021, falling to 6.7 million in 2022. House price growth will also moderate in our forecast, averaging 6.6% nationally in 2021, slowing to 4.4% in 2022.
Finally, we forecast that higher mortgage rates will lead to lower mortgage refinance origination activity. Refinance originations will decline from $2.65 trillion in 2020 to $1.83 trillion in 2021, and $770 billion in 2022. Increased home sales and rising house prices will help lift purchase originations from $1.39 trillion in 2020 to $1.66 trillion in 2021. But, the modest decline in home sales will lead purchase originations to decline to $1.62 trillion in 2022. Overall, single-family mortgage origination activity will decrease from $4.04 trillion in 2020 to $3.48 trillion in 2021 and $2.39 trillion in 2022.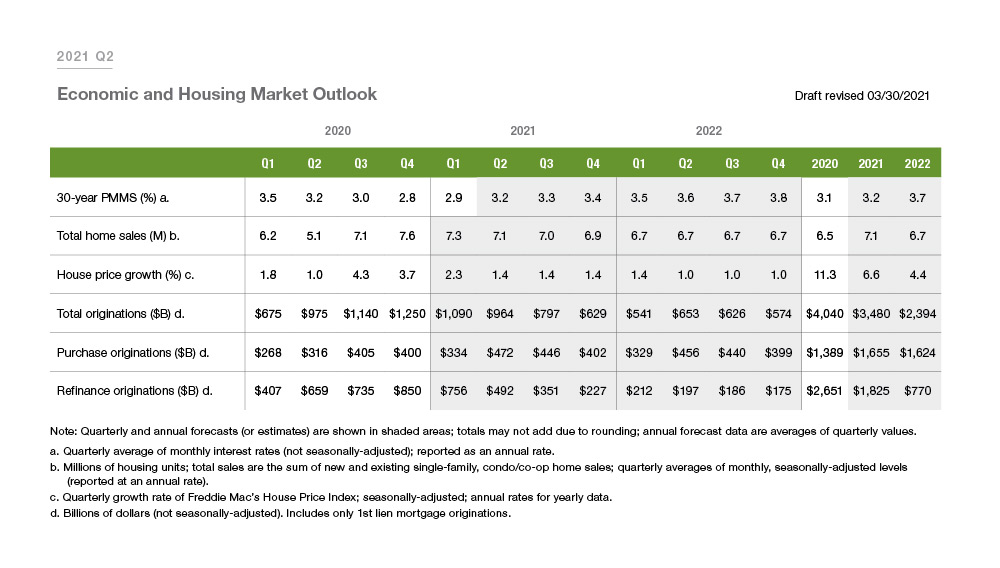 PREPARED BY THE ECONOMIC & HOUSING RESEARCH GROUP
---