Forecast
| January 21, 2022
Quarterly Forecast: The Housing Market Expected to Remain Stable Despite Rising Rates and Cooling Price Growth
As the U.S. economy ended 2021 on firm ground, economic growth is expected to be slower in 2022 amid uncertainty and challenges resulting from the ongoing health crisis.
The labor market has continued to recover from the effects of the pandemic, with the unemployment rate reaching 3.9% in December 2021. However, the U.S. economy added only 199,000 nonfarm payroll jobs in December 2021, which was below expectations. To date, job openings remain high at 10.6 million, nonfarm payrolls are down 3.6 million from the pre-pandemic levels (February 2020) showing there is still room for improvement in employment.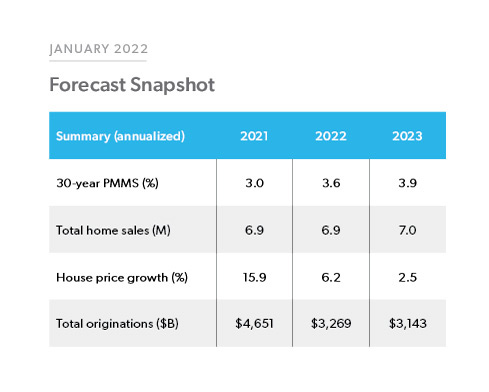 Inflationary pressures continue to build as consumer price inflation (CPI) surged in 2021. The all-item CPI hit a 40-year high of 7.0% year-over-year in December 2021, while the core CPI came in at 5.5% year-over-year. We expect the inflationary pressures to moderate this year as the Federal Reserve begins to taper its asset purchases and raise rates. Mortgage rates hovered around the 3% mark in 2021, coming in at 3.1% in December 2021. We forecast rates to average 3.6% in 2022 and 3.9% in 2023.
The demand for housing continues to remain stable, mainly due to low mortgage rates coupled with first-time homebuyers and other demographic tailwinds helping to support stability in the housing market this year. Home sales were strong in 2021, with fourth quarter home sales expected to come in at 7.1 million. We forecast home sales to hit 6.9 million in 2022 and increase to 7.0 million in 2023. Given the expected increase in mortgage rates, we expect some moderation in housing demand, and we forecast house price growth to decrease from 15.9% in 2021 to 6.2% in 2022 and to cool further to 2.5% in 2023.
Based on current demand and continued (though moderating) house price growth, we expect home purchase mortgage originations to grow from $1.9 trillion in 2021 to $2.1 trillion in 2022 and $2.2 trillion in 2023. With a higher mortgage rate forecast for 2022 and 2023, we anticipate refinance activity to slow, declining from $2.7 trillion in 2021 to $1.2 trillion in 2022 and $930 billion in 2023. Overall, we forecast total originations to decline from the high of $4.7 trillion in 2021 to $3.3 trillion in 2022 to $3.1 trillion in 2023.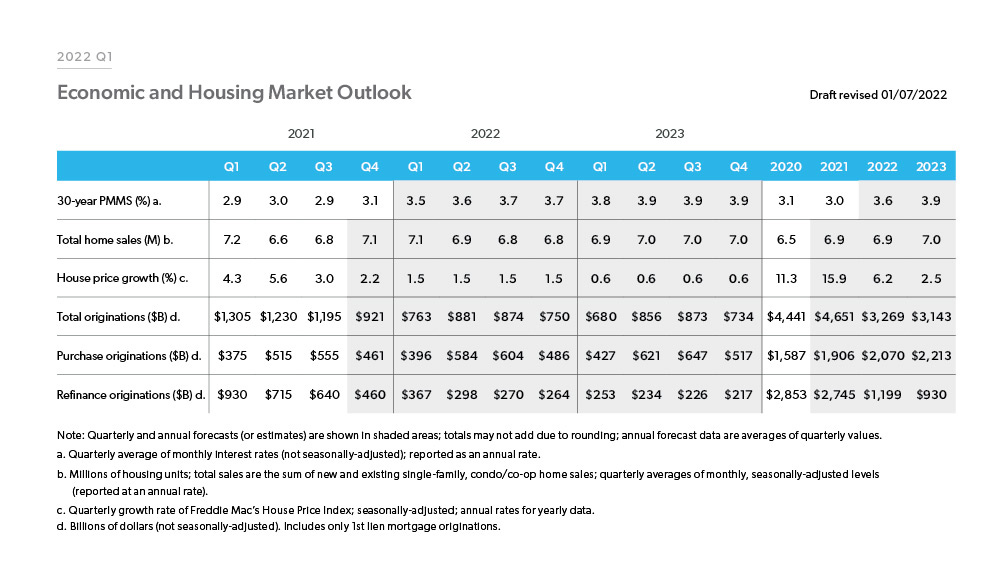 PREPARED BY THE ECONOMIC & HOUSING RESEARCH GROUP
---