Research Brief
| November 2, 2022
Homeowners Hold Positive Attitudes Toward Renovating But Cost, Financing Awareness and Emotion Hold Them Back
Given the average age of the housing stock in the United States and continued home price growth, many current homeowners and future homebuyers could be well positioned to renovate an existing property or buy a home in need of minor or major renovations. But according to a recent Freddie Mac survey of potential renovators and homebuyers, although most hold positive attitudes toward renovating, financial cost, emotional barriers and a lack of knowledge about financing options can be significant obstacles.
According to the National Association of Home Builders, in 2019, the median age of owner-occupied homes was 39, up from 31 in 2005. In addition, as of October of 2021, more than half of all homes in the United States are between 20 and 50 years old, so it's no surprise that many of these homes may require minor or major upgrades, especially in the eyes of those purchasing the home.
Although potential renovators and homebuyers surveyed reported a general preference for suburban homes of any age, few are interested in significant upfront work upon purchase.
Desired Property Condition for First/Next Home*
| Property Condition | Desire This Condition |
| --- | --- |
| New Construction | 47% |
| Move-in Ready | 60% |
| Cosmetic Reno | 38% |
| Structural Reno | 8% |
*Responses not mutually exclusive.
Of those who are open to considering a home requiring renovation, preferences skew toward quick, cosmetic work. Respondents are extremely, very or somewhat likely to consider:
88%: Minor renovations, not needed right away.
75%: Minor renovations, needed immediately.
48%: Major renovations, not needed right away.
29%: Structural changes or redesign.
24%: Major renovations, needed immediately.
Respondents define minor renovations as low-cost and quick projects such as painting, replacing light fixtures and landscaping. They believe these projects should cost approximately $4,700 and take less than a month to complete on average.
Respondents define major renovations as projects with moderate-to-high costs that require more time and effort, including foundation reconstruction, structural changes, plumbing replacement, and a kitchen or bath remodel. They believe these projects should cost approximately $35,300 and take more than three months to finish on average.
Survey respondents reported significant concerns about the emotional toll of larger projects. Top concerns include finding trusted professionals, losing control of the project, the stress of renovation and unexpected obstacles. Most respondents cite both the total cost to renovate and potential for overspending as major obstacles to renovating. Although half say they are most likely to leverage personal savings for pay for home renovation costs, financing a renovation remains a possibility. Nearly half are open to taking out a loan to cover the costs of renovation while a third are not sure.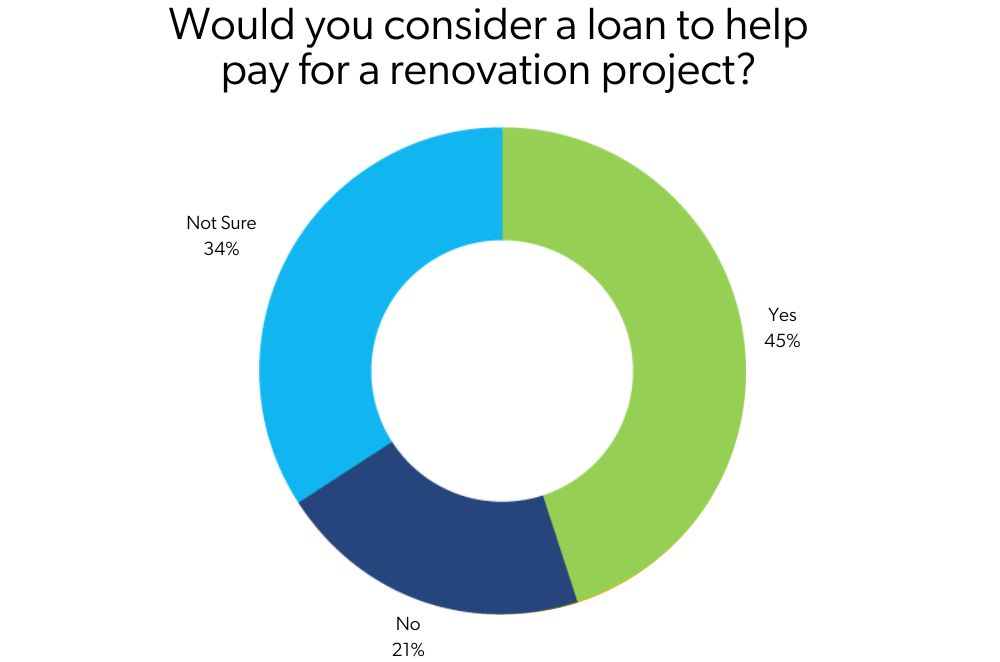 Overall, survey respondents reported a lack of awareness about renovation financing options, with approximately 4 in 10 saying they are unaware of any loan program or mortgage financing options. Respondents reported top awareness on the following loan programs or mortgage financing options:
46%: HELOC.
26%: Cash-out refinance.
21%: FHA 203(k).
10%: Renovation mortgage.
38%: None.
These survey results suggest lenders have an opportunity to provide prospective homebuyers and renovators more educational and consultative resources on the value of renovating and their financing options, particularly about renovation mortgages. Freddie Mac offers two such loan types: its CHOICERenovation® and CHOICEReno eXPress® mortgages, which support renovation financing by providing cost-effective loan solutions to borrowers.
Freddie Mac's Market Insights team fielded its study May 27 to June 8, 2022, and it includes responses from 2,524 adults who fell into one of three groups: homeowners planning to renovate within five years, homeowners planning to purchase a home within five years, and non-owners planning to purchase a home within five years. The survey oversampled for Black and Hispanic consumers.
Interested in more consumer research? Gain insights into the housing market from surveys of homebuyers, homeowners and renters in Freddie Mac Consumer Research.
---