Forecast
| October 15, 2021
Quarterly Forecast: Strong Housing Market Expected to Persist Notwithstanding Rising Mortgage Rates and Continued High Home Prices
While the U.S economy has reached above its pre-pandemic peak with real GDP growth of over 6% annualized rate in the first two quarters of 2021, the economy still has space to grow.
The pace of labor market recovery continues to be a concern. The latest employment report from the U.S. Labor Department showed that the U.S. economy added 194,000 nonfarm payroll jobs in September, which was below expectations and at its lowest level since January 2021. Although job openings remain high at 10.4 million in August, non-farm payrolls are down 5 million from February 2020 pre-pandemic levels showing there is still room for improvement in employment.
Inflationary pressure is building as consumer price inflation climbed in August, and the all-item Consumer Price Index increased 5.3% year-over-year while the index for all items less food and energy increased 4.0% year-over-year. However, we do not expect the inflationary pressure to last since rates have remained low. The 30-year fixed-rate mortgage was 2.9% in the third quarter of 2021. We forecast mortgage rates to increase slightly through the remainder of the year and reach 3.0%, rising to 3.5% for full year 2022.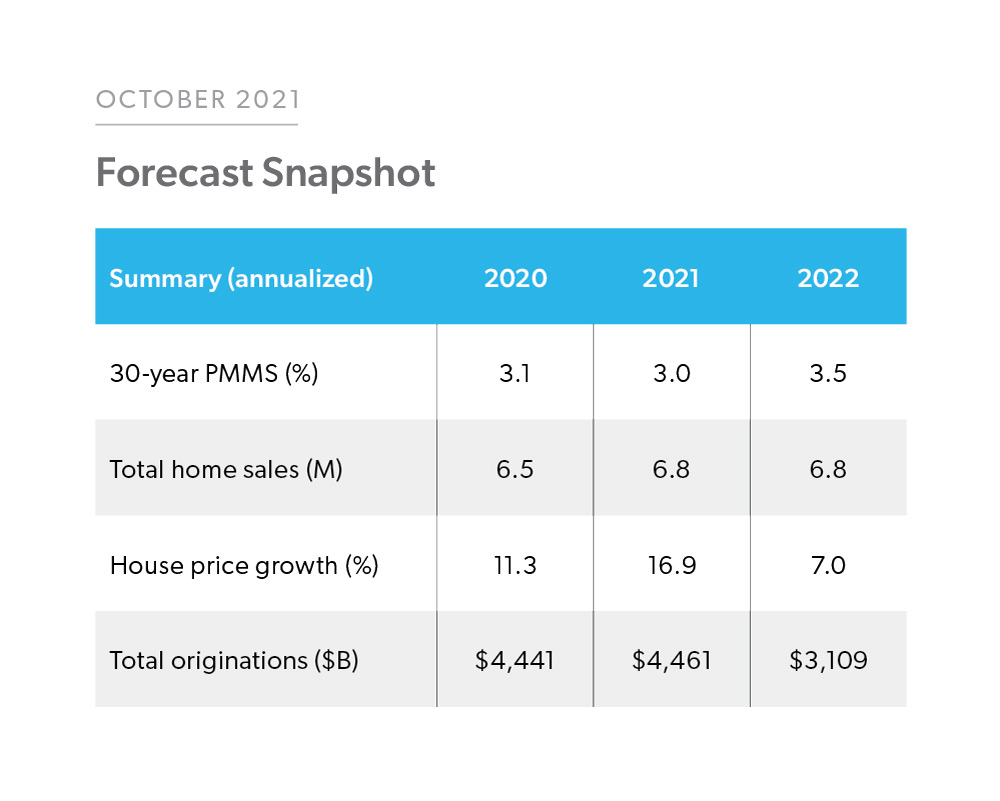 Despite low mortgage rates, many buyers are discouraged from homebuying due to an increase in home prices. The pace of home sales has cooled since the first quarter of 2021 when it was at 7.2 million. We forecast home sales to hit 6.8 million for the full year 2021 and 2022. Additionally, we forecast house price growth of 16.9% in 2021. However, we expect house price growth to slow to 7.0% in 2022.
Strong house price growth is expected to lift home purchase mortgage originations from $1.9 trillion in 2021 to $2.1 trillion in 2022. With a higher mortgage rate forecast for 2022, we anticipate refinance activity to soften, with refinance originations declining from $2.6 trillion in 2021 to just below $1.0 trillion in 2022. Overall, we forecast that total originations will decline from $4.5 trillion in 2021 to $3.1 trillion in 2022.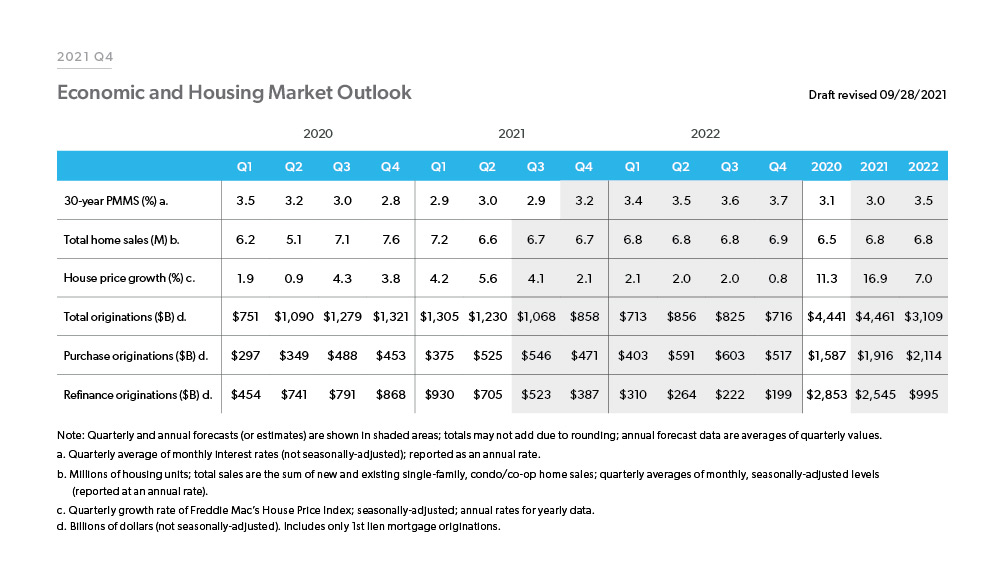 PREPARED BY THE ECONOMIC & HOUSING RESEARCH GROUP
---