Forecast
| April 18, 2022
Quarterly Forecast: The Purchase Market Will Remain Solid Even as Mortgage Rates Rise
In 2021, the U.S. real gross domestic product (GDP) grew 5.7 percent marking the highest full-year growth since 1984. However, as the effect of the federal stimulus wanes and ongoing geopolitical tensions persist, we expect economic growth to be slower in 2022. The labor market continues to recover at a strong pace with the unemployment rate decreasing to 3.6 percent in March, very close to pre-pandemic levels. The U.S. economy also added 431,000 nonfarm payroll jobs in March. Although job openings remain at a record high of 11.3 million, nonfarm employment is down 1.6 million from pre-pandemic levels.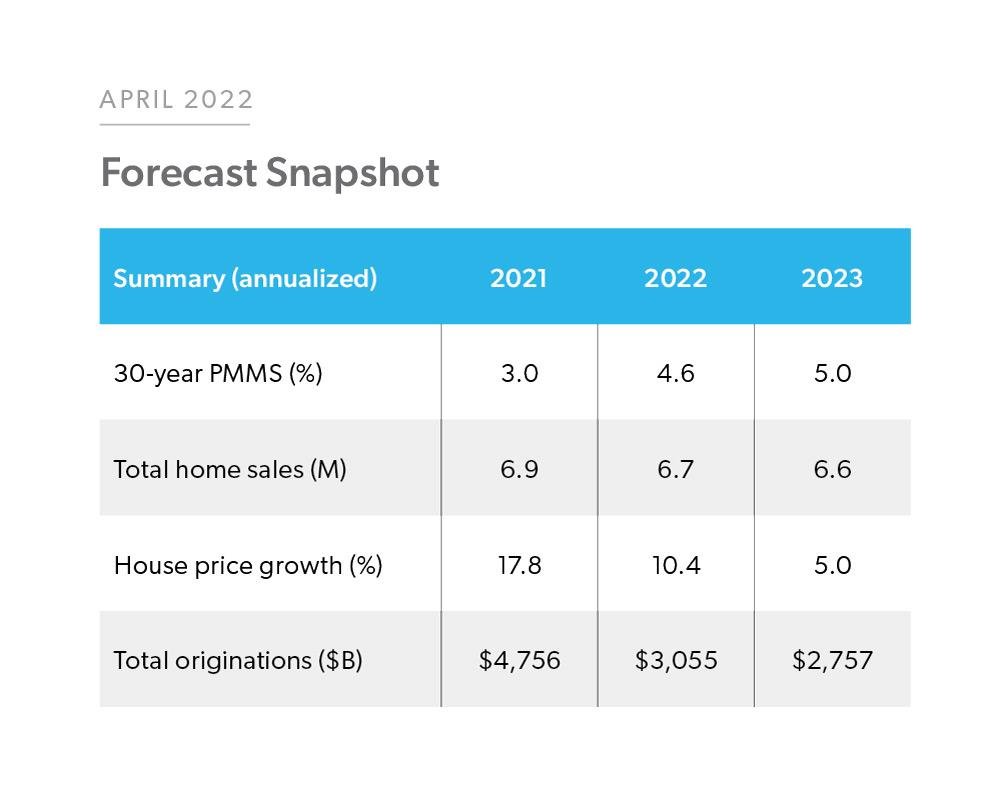 Inflationary pressures continue to build with the all-item consumer price index (CPI) hitting a 40-year high of 8.5 percent year-over-year in March 2022, while the core CPI rose 6.5 percent year-over-year. We do expect inflationary pressures to remain elevated throughout the year since energy prices are likely to remain high due to an increase in demand and a decrease in supply. Additionally, shelter inflation is yet to be fully reflected in the CPI and, given the high levels of house price appreciation, we expect the CPI to remain elevated. To combat these inflationary pressures, the Federal Reserve implemented the first of multiple interest rate increases and will begin to shrink its balance sheet. We are already seeing the impact on long-term rates, especially mortgage rates. Mortgage rates continue to trend up, with the 30-year fixed-rate mortgage averaging 3.8 percent in the first quarter of 2022. Due to the recent weekly increase in rates, we forecast the 30-year fixed-rate mortgage to average 4.6 percent for full-year 2022 before reaching 5.0 percent for full-year 2023.
Demand for housing continues to remain solid with many prospective homebuyers looking to lock in a mortgage rate before they increase further. Home sales were strong in 2021, with full-year home sales coming in at 6.9 million, the highest level in fifteen years. Given the increase in mortgage rates, we do expect housing demand to moderate and forecast home sales to slow to 6.7 million in 2022 and 6.6 million in 2023. With increasing mortgage rates, we expect home price appreciation to moderate in 2022 and we forecast full-year house price growth of 10.4 percent in 2022, and 5.0 percent in 2023.
Given house price growth and home sales expectations, we forecast home purchase mortgage originations will grow from $1.9 trillion in 2021 to $2.1 trillion in 2022, and to $2.2 trillion in 2023. With mortgage rates expected to continue rising, we anticipate refinance activity will slow. Our forecast calls for refinance originations to decline from $2.8 trillion in 2021 to $960 billion in 2022 and to $535 billion in 2023. Overall, we forecast total originations to decline from the high of $4.8 trillion in 2021 to $3.1 trillion in 2022 and $2.8 trillion in 2023.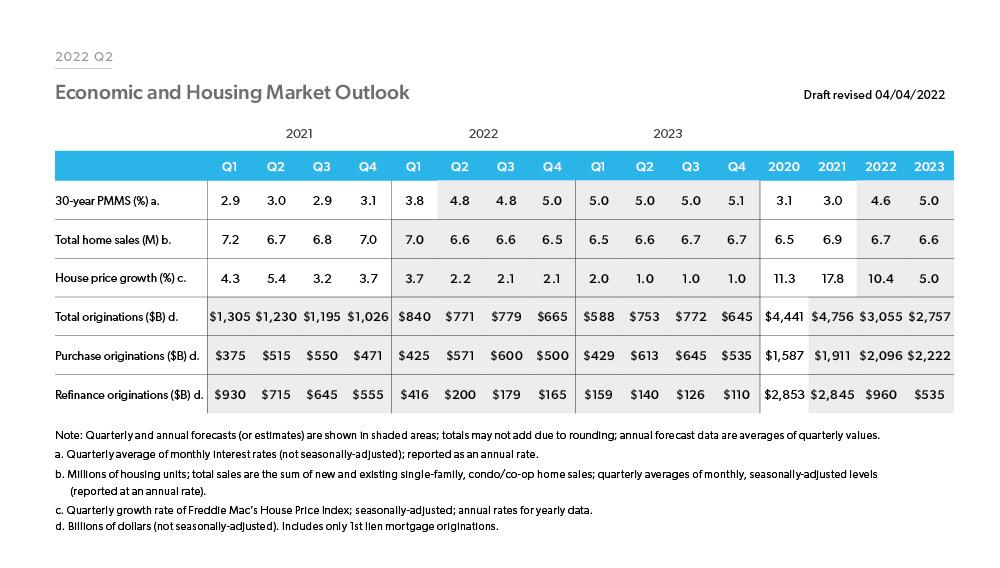 PREPARED BY THE ECONOMIC & HOUSING RESEARCH GROUP
---