Forecast
| April 29, 2019
Low Mortgage Rate Environment Supports Continued Housing Market Growth
Mortgage interest rates saw a drastic decline at the end of March and have remained near the same level since then. Furthermore, the job market continues to show signs of strength, and wage growth has been increasing moderately.
All these factors are conducive for a steadily growing housing market in 2019.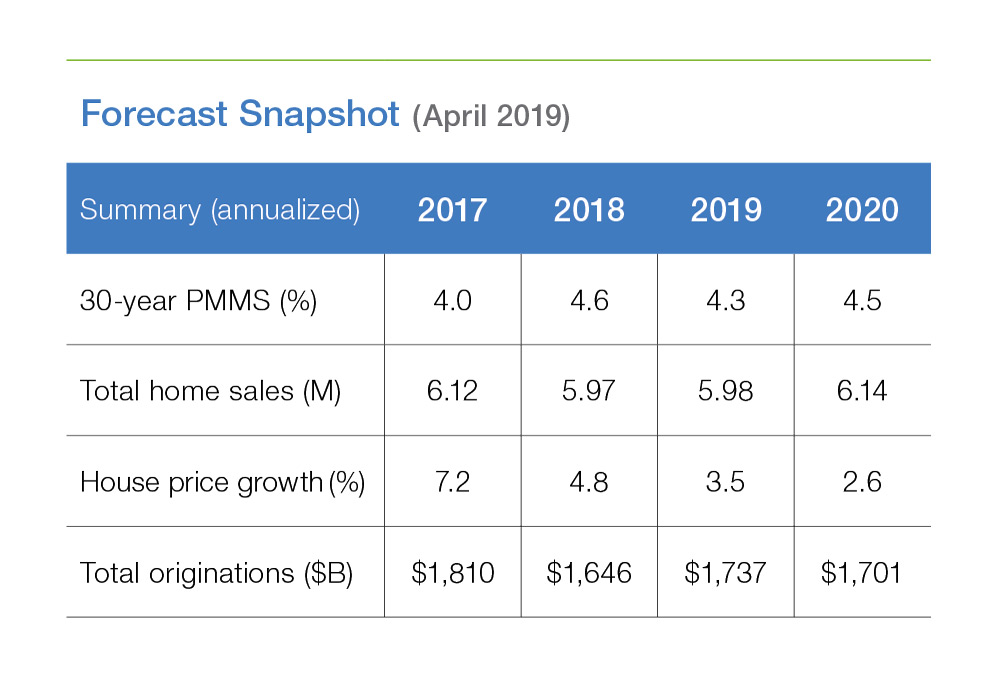 The U.S. economy continues to grow along with a strong labor market. However, given the weakening consumer spending, we forecast overall GDP growth rate in 2019 and 2020 to be 2% and 1.8% respectively.
After declining in the first quarter of 2019, inflation is expected to pick up for the rest of the year. However, overall consumer price growth in 2019 is expected to be at 1.8%, which is below the Federal Reserve's inflation target, before bouncing back to 2.1% in 2020.
Mortgage rates have declined since the beginning of 2019
Owing to the recent decline in mortgage rates, we have revised down our forecasts for the 30-year fixed-rate mortgage and 5/1 adjustable rate mortgage. We expect the 30-year fixed-rate mortgage to average 4.3% and 4.5% in 2019 and 2020, respectively. And we expect the 5/1 adjustable to stay at 3.8% for the remainder of this year, which is the same level as last year.
Similarly, due to historically low Treasury rate yields, we have revised down our forecast for the 10-year as well as the 1-year Treasury rates. We have lowered the 10-year Treasury rate by the same magnitude as the 30-year fixed-rate mortgage to lower to 2.6% and 2.7% in 2019 and 2020, respectively. We expect the 1-year Treasury rate to stay at 2.4%, the same level as 2018, for both 2019 and 2020.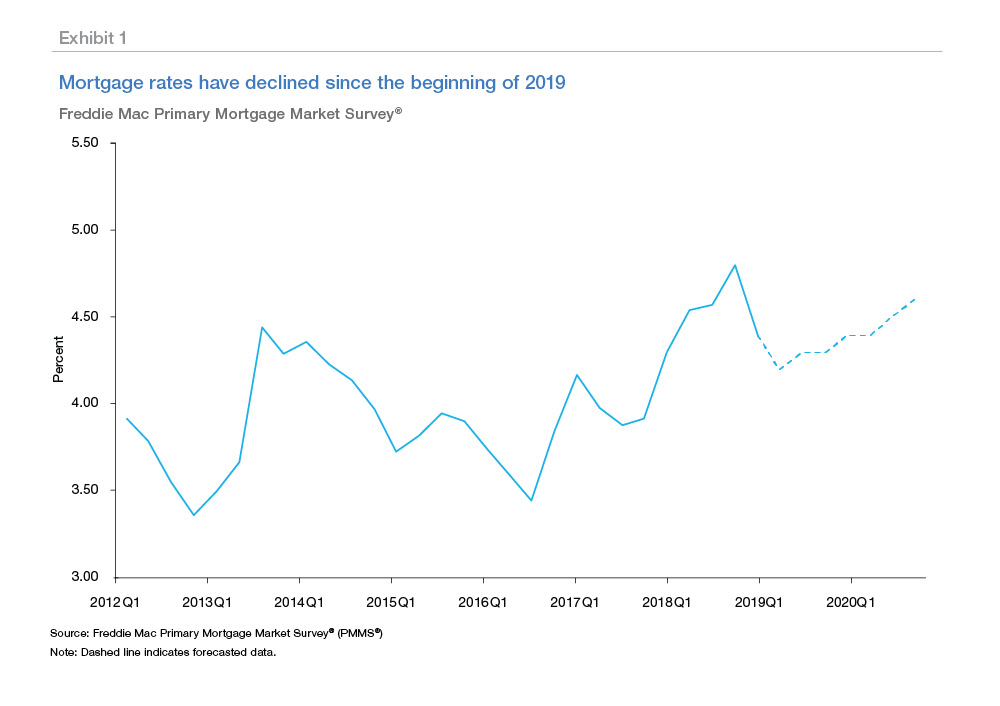 In its latest FOMC meeting, the Federal Reserve suggested that it will hold off on rate hikes while it assesses the strength of the economy. Based on this, we foresee no rate hikes in the near future with our overall Federal Funds effective rate forecast staying flat at 2.4% for both these years.
Homes sales showing signs of recovery
The January and February data on housing starts has informed our decision to lower the first quarter 2019 forecast for housing starts. This has effectively lowered our 2019 annual forecast for total starts to 1.26 million units, before increasing to 1.33 million units in 2020.
Due to healthy home sales data so far in 2019, as well as low mortgage rates and a strong job market piquing new homebuyer interest, we expect home sales to be higher than previous forecasts. Most of this increase is expected to come from existing home sales. We now anticipate total home sales to surpass its 2018 levels in 2019 and be at 5.98 million before growing to 6.14 million in 2020.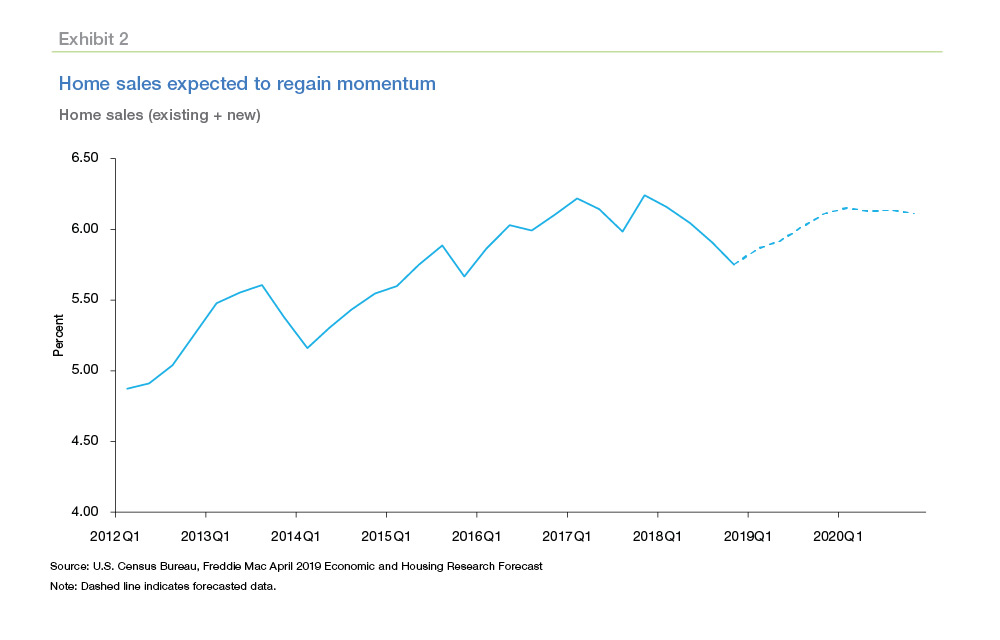 In line with recent trends, we have adjusted our house price growth forecast to increase slightly to 2.6% in 2020. On the other hand, we expect it to grow 3.5% in 2019, as previously forecasted.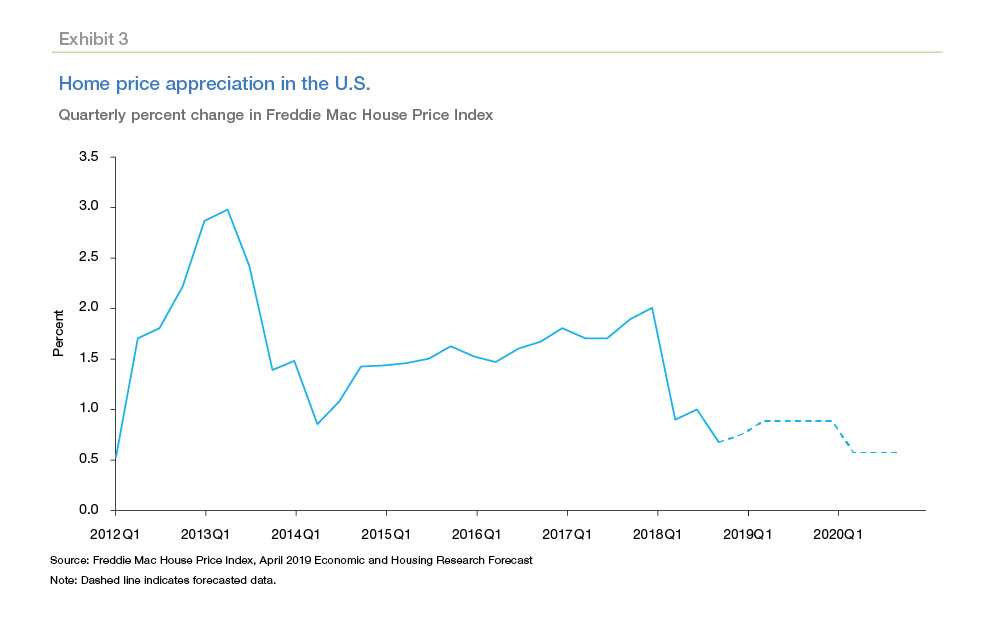 Mortgage originations expected to increase with low mortgage rates
Single-family mortgage origination volumes are expected to soar for the remainder of 2019 mainly due to higher refinance traffic. The recent drastic decline in mortgage rates will prove to be an incentive for borrowers to refinance, especially the ones who took out a mortgage at the end of 2018. Overall, we expect annual forecasts of the refinance share of originations to increase to 33% and 27% in 2019 and 2020, respectively.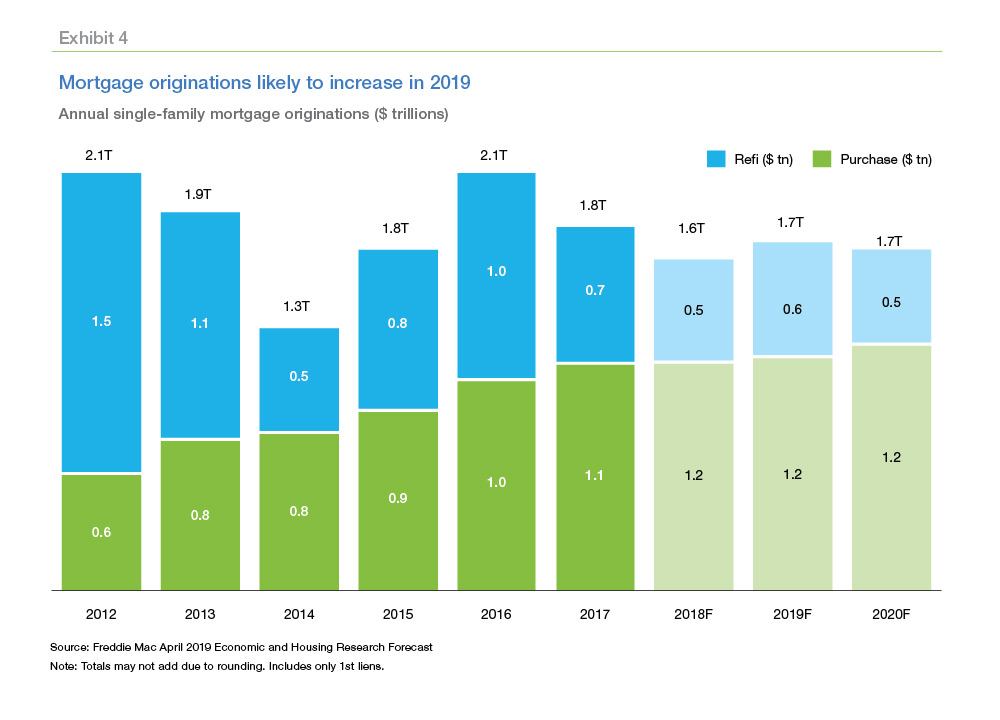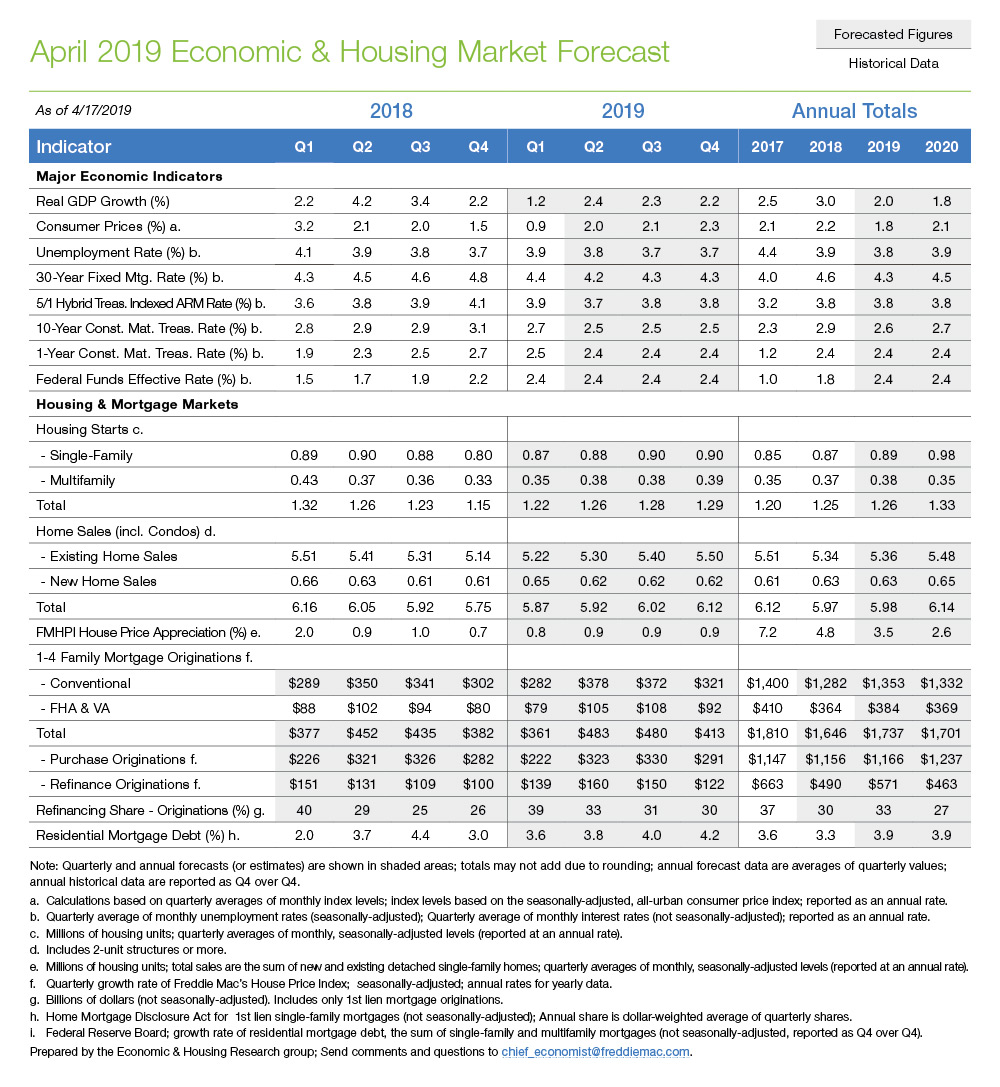 PREPARED BY THE ECONOMIC & HOUSING RESEARCH GROUP
---