Consumer Research
| April 12, 2017
Survey Says: Financial Optimism Grows Among Renters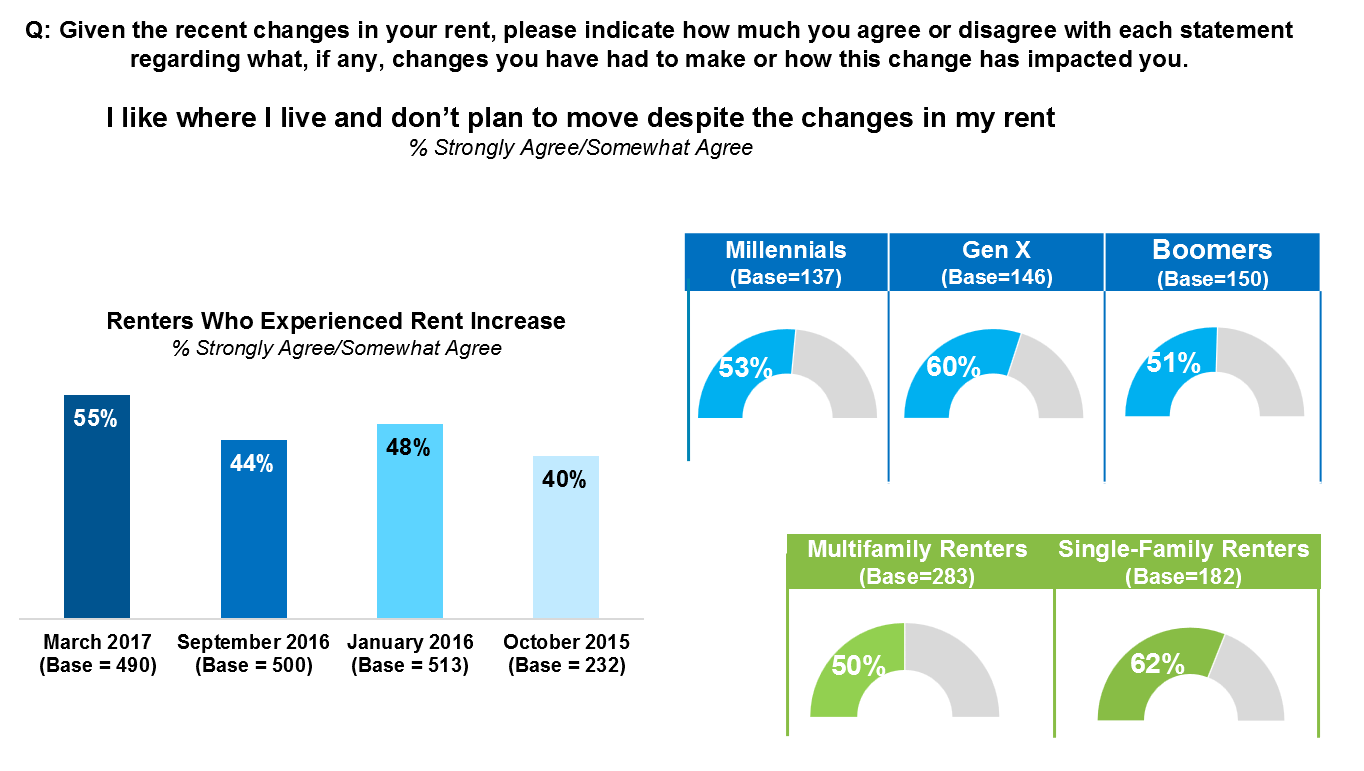 According to a new survey, commissioned by Freddie Mac, more renters feel better about their finances and like where they are living. Consistent with findings from earlier surveys, a steady growing number of renters have a more positive view of renting.
The number of renters who say renting is a good choice for them now rose from 46 percent in January 2016 to 52 percent in March 2017. Views on rent affordability have remained relatively flat.
Renter sentiments about their financial situation have improved since our last survey in September 2016. Specifically, 41 percent of renters now say they have enough money to last beyond each payday, up from 34 percent in September, while those who say they cannot afford essentials fell from 20 percent to 14 percent. Those saying they have enough to cover their expenses from payday to payday is relatively unchanged at about 45 percent.
Financial confidence rose for renters in all age groups no matter where they live. The biggest increases were among rural households, up from 27 percent to 46 percent, and baby boomers, up from 38 percent to 48 percent.
Fewer Renters Say They Plan to Move
The increase in personal financial confidence, so far, has not triggered an increase in renter moving plans. Rather, the number of renters who don't know when they expect to move rose to 37 percent from 30 percent while those who expect to move during the next two years fell to 33 percent from 38 percent since Freddie Mac's last renter survey in September 2016. What's more, 55 percent of all respondents, and 60 percent of 35- to 49-year olds, say they like where they live and don't plan to move if their rents rise.
The number of renters who say they plan to rent their next home rose to 59 percent from 55 percent. The biggest increases were among suburban households, up from 48 percent to 57 percent, and among Millennials (ages 18-34), which rose from 64 percent to 73 percent.
While homeownership remains on the horizon, the percentage of renters who expect to own fell from 45 percent to 41 percent since the prior survey.
Similarly, in response to a related question, the number of renters who say they are working toward homeownership fell from 21 percent to 15 percent over the same period.
The survey also indicates a preference for living in urban areas even if it means moving into a smaller home. Seventy-five percent of the renters surveyed say they would consider downsizing in order to live in an urban area, with half of those saying they are either very or fairly willing to downsize.
The Survey
Freddie Mac's custom renter research is based on a survey conducted online March 3 – March 6, 2017, among 4,283 adults, including 1,282 renters, by Harris Poll, on behalf of Freddie Mac, via its QuickQuery omnibus product.
---