Consumer Research
| September 13, 2017
Multifamily Survey: Growth Up, Affordability Down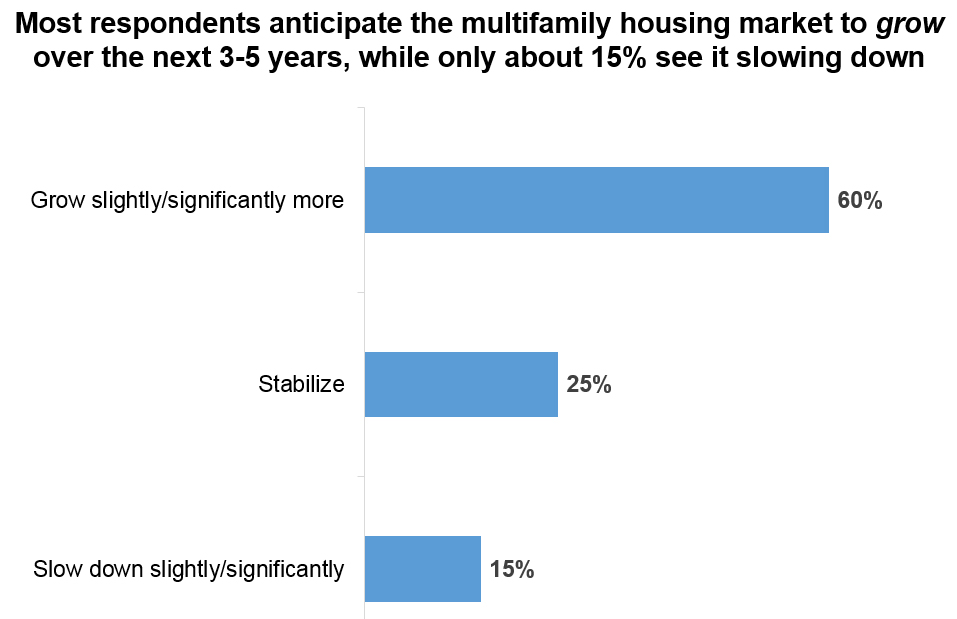 A significant majority of multifamily industry participants expect the rental housing market will continue to grow, fueled by increasing demand and a growing population. At the same time, however, many of them are less optimistic about the outlook for affordable housing than just one year ago.
Freddie Mac partnered with the real estate media and intelligence firm Hanley Wood to gauge individuals' attitudes across the industry, including those working in property development; building and construction; property management; lending, financing and investing; and government and trade associations.
Among the key findings:
Most in the industry are optimistic about the outlook for multifamily. The survey found 60 percent of industry participants anticipate the multifamily housing market will grow over the next three to five years, while only about 15 percent see it slowing. Of those who said the industry will grow, nearly one-third cited supply and demand as the justification, while another 17 percent cited population growth.
Many market participants believe the market should focus on energy improvements, affordable housing, seniors, and working families. Asked about the areas in which the multifamily housing market should focus, respondents highlighted four major areas as extremely or very important:
Enhancing the energy efficiency of multifamily properties (51 percent)
Increasing the supply of affordable housing (48 percent)
Addressing the housing needs of America's seniors (47 percent)
Increasing construction of workforce housing properties (47 percent).
Concern and pessimism over affordable housing options are growing. In comparing their sentiments this year versus last, 42 percent of respondents expressed declining optimism about the outlook for the creation of affordable rental housing. When asked about top challenges to offering new affordable housing, 40 percent of respondents cited costs, such as those associated with land and construction, as the largest obstacle by far.
Read more about the survey results.
---