Consumer Research
| November 3, 2017
Renters See Affordability in Apartment Living
Affordability and changing attitudes towards renting are playing a significant role in the growing demand for rental housing, according to the latest edition of Freddie Mac's renter research. Conducted by Harris Poll, the survey finds that an increasing number of America's renters are satisfied with their living situation and consider it the most affordable option for the foreseeable future, despite their view that housing prices—both to purchase and rent—continue to rise and supply continues to tighten.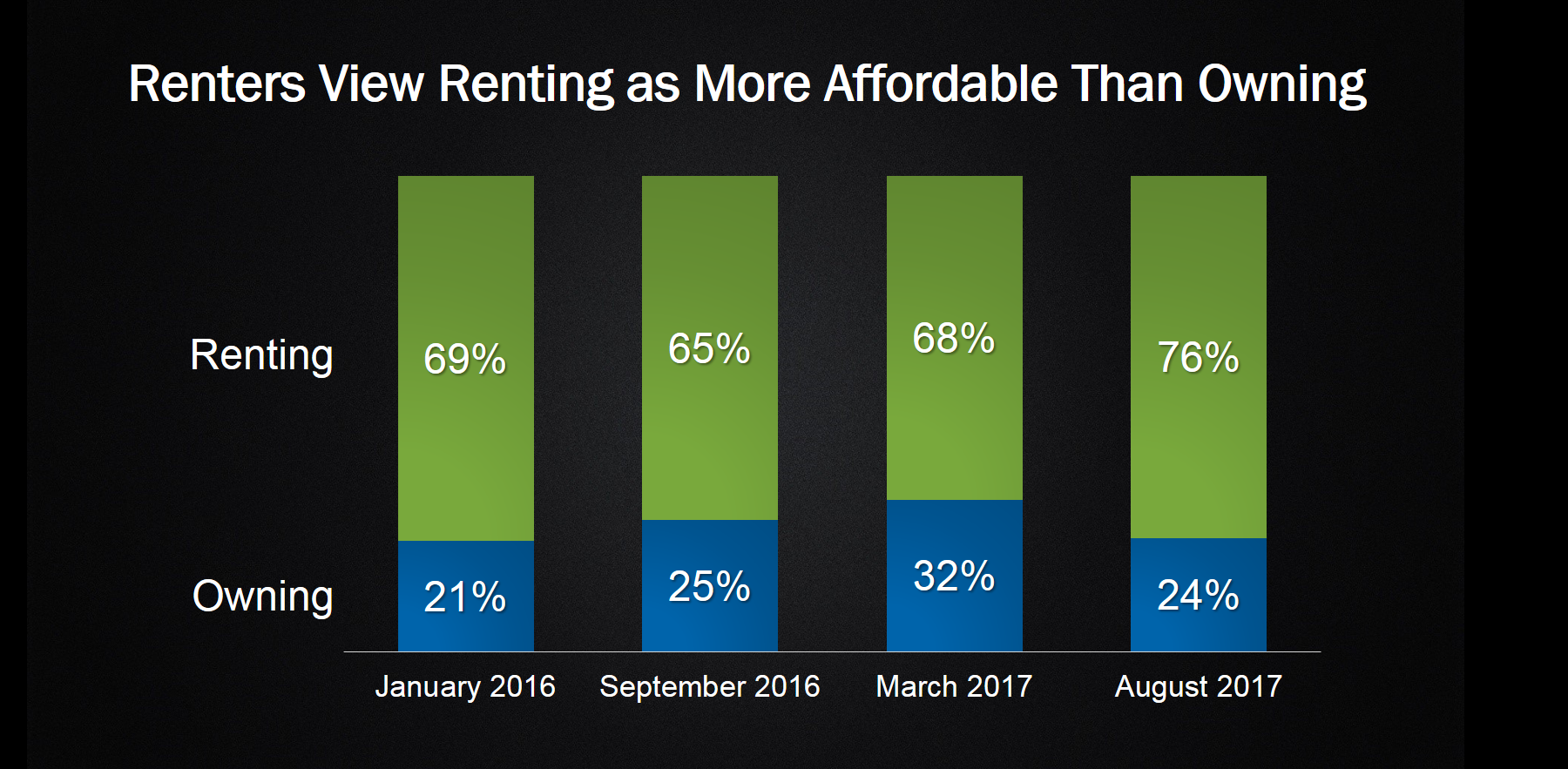 Specifically, the survey finds that a large number of renters view renting as an option that fits their lifestyle, and a strategic choice at many life stages. Nationally, those who believe that renting is more affordable has increased to 76% from 68% since Freddie Mac's last renter survey in March, 2017.
Changing Perceptions Towards Renting
The survey finds an increasing number of renters view renting as a good choice for them, increasing in August to 57% compared to 52% in March, 2017. Over half of renters – 58% – believe that "renting fits my current lifestyle," including 63% of Young Millennials (ages 21-27) and Baby Boomers ages (53-71). Moreover, 55% see renting as a strategic choice at many life stages, with 45% of Younger Millennials, 51% of Older Millennials (aged 28-37), 56% of Generation X (aged 38-52), and 68% of Boomers sharing those views.
A Majority View Renting as the Far More Affordable Option
Bolstering these perceptions are evolving views on affordability. While more than seven out of 10 renters view renting as more affordable than owning generally, perceptions of renting as more affordable have increased across generations as well. Since September of 2016, the view that renting is more affordable has increased by more than 10 percentage points among Millennials (66% to 76%), Generation X (56% to 75%) and Baby Boomers (71% to 82%).
Views on the Rental Experience Remain Positive
Overall, satisfaction with the rental experience remains high and largely unchanged. Approximately 60% of renters express satisfaction with their overall rental experience. While 41% of those surveyed cited affordability as the primary driver of their renting decision, one-third (33%) said buying a home is just not a priority at the moment.
---