Consumer Research
| October 1, 2018
LGBT Homeownership Rates Lag Behind General Population
New Freddie Mac research finds that members of the LGBT community are less likely to own a home, are more mobile, fear discrimination when buying a home, and prioritize living in LGBT-safe neighborhoods.
Specifically, the survey of LGBT community members living in the U.S. reveals that 49 percent of LGBT households are likely to own a home – considerably lower than the current national rate (64.3 percent). The survey is unique in that it explored the diversity within the LGBT community – for example, finding that gay men and lesbians were the most likely to own (52 percent), while LGBT African-Americans (30 percent) and LGBT Millennials (23 percent) were the least likely to be homeowners.
Despite being less likely to own a home right now, LGBT respondents largely had positive attitudes about homeownership that is seen among renters in general. Three-quarters of LGBT renters agreed that owning is a good financial investment, and 72 percent of renters said they want to own a home in the future.
One of the primary reasons for the lower homeownership rate among the LGBT community may be their tendency to relocate more frequently. Sixty-seven percent of respondents said they do not live in the same area in which they grew up, which is higher than the general population pdf.
LGBT renters fear discrimination and seek LGBT-friendly neighborhoods
More than four in ten (46%) of LGBT renters fear discrimination in the home buying process while an additional 15% are unsure.
When deciding where to live, LGBT renters cited price, safety and a LGBT-friendly location as the most important factors. If they were to buy a home, a LGBT-friendly neighborhood was ranked only behind home price and safety, as their top three priorities on where to buy.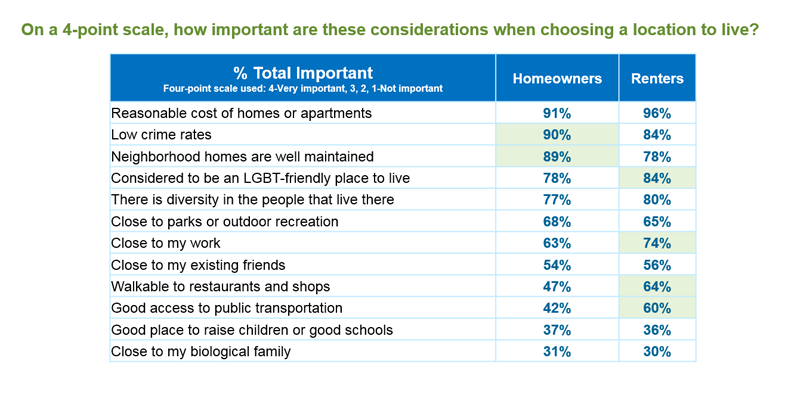 Affordability, misunderstandings about down payments slowing homeownership
As seen with renters across all demographics, rising rents and home prices are slowing LGBT renters' path to homeownership. One of biggest financial challenges for all potential homebuyers is saving for a down payment. Seven in ten LGBT renters who are interested in buying a home, cite saving for a down payment as a challenge.
The survey found that, like the general population, over half of LGBT renters said they either didn't know how much is needed for a down payment, or thought it was above 20 percent. Homeownership counseling and awareness of the many low-down payment programs available would likely go a long way in making the dream of homeownership a reality for many interested LGBT households.
Survey Methodology
The survey was conducted by Community Marketing and Insights, and is based on an April 2018 online survey among 2,313 LGBT community members (aged 22 to 72) living in the United States. The survey has a margin of error of ±2.10% at a 95 percent level of confidence.
---