Forecast
| August 27, 2018
Strong Economic Growth Despite Weaker Housing Market Activity
The U.S. economy accelerated in the second quarter of 2018, with real GDP growth at 4.1 percent, which was the strongest quarterly growth rate since the third quarter of 2014. This growth occurred despite weaker housing market activity. Housing starts, existing-home sales and new home sales all declined in the second quarter, and home price growth moderated.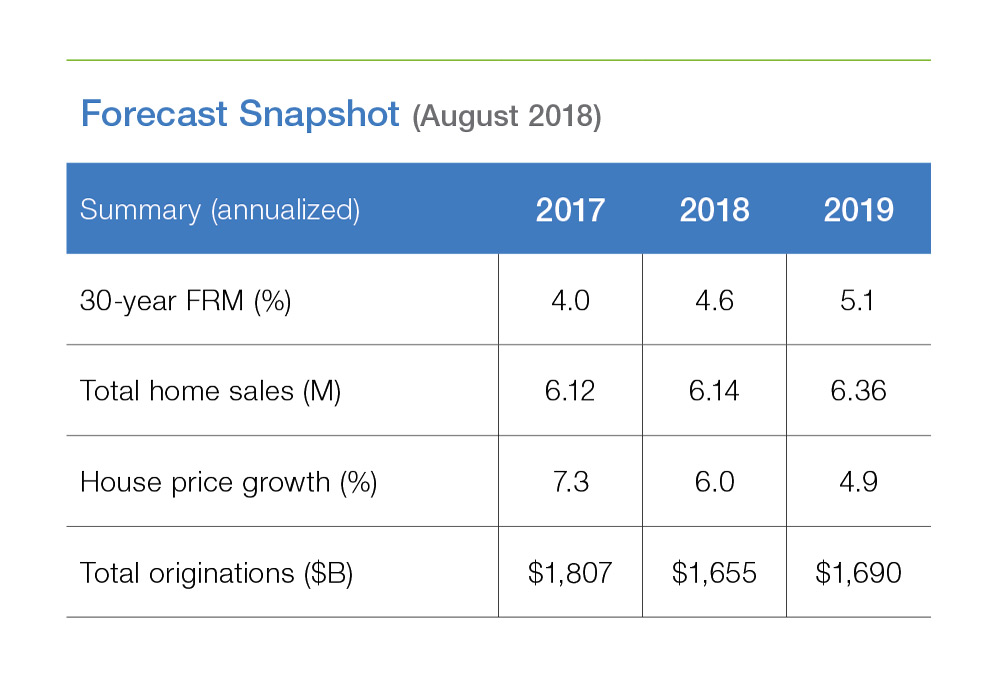 Does recent housing data indicate the start of a slowdown, or is it just a temporary blip? We forecast the
housing market to post modest growth in the second half of this year, as well as next year. The healthy economy and robust labor market should support homebuyer demand.
The U.S. labor market keeps chugging along, adding jobs for 94 consecutive months through July, the longest such streak recorded by the U.S. Bureau of Labor Statistics (BLS). The unemployment rate in July dropped to 3.9 percent, and we forecast that it will remain there for the rest of the year, before dropping slightly to 3.8 percent next year.
Mortgage rates stabilized over the summer
Mortgage rates surged in the first half of 2018, which weighed on the housing market by reducing affordability. The U.S. weekly average mortgage rate increased from 3.99 percent in the first week of January to as high as 4.66 percent in May. This increase in rates would require a buyer with a $250,000 30-year fixed-rate mortgage to pay over $1,000 more each year in principal and interest. Since May, rates have stabilized, but we expect a gradual upward trend, with an average of 4.6 percent this year and 5.1 percent in 2019.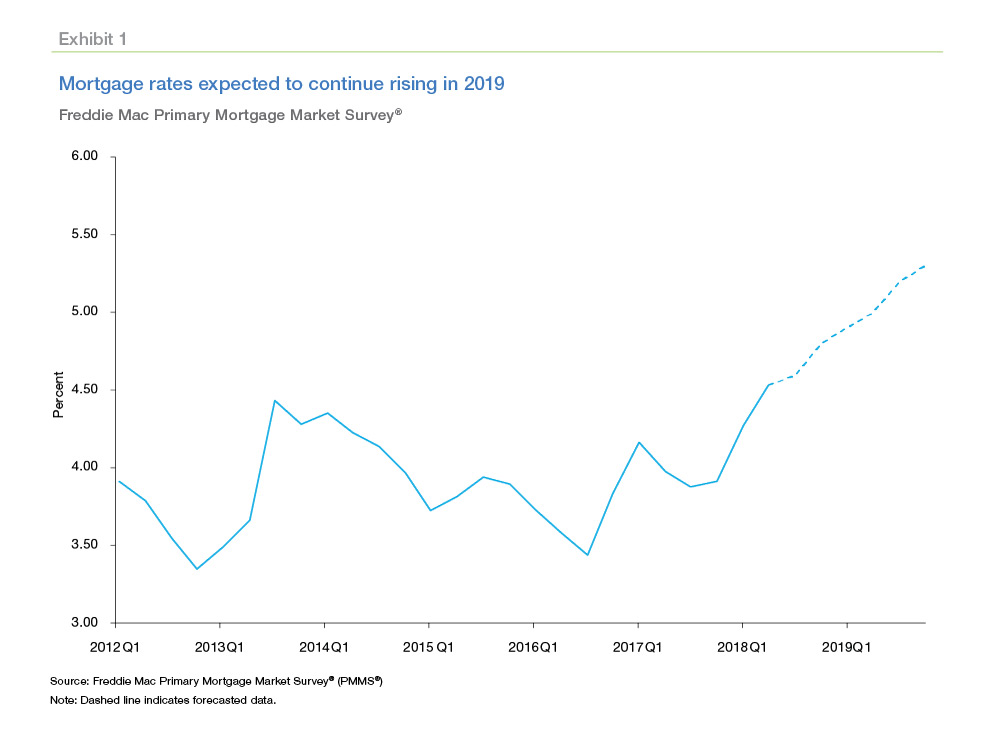 Homes sales tumbled in the second quarter
Home sales slipped in the second quarter. Higher mortgage rates and home prices, combined with limited for-sale inventory, led to a modest decline of 1.6 percent in total (new and existing) home sales. Housing starts also stalled, falling 4.5 percent for the quarter. We expect housing construction to increase, which will bring more supply to the market and help drive sales growth modestly.
We forecast total home sales to be 6.14 million this year and to rise to 6.36 million next year.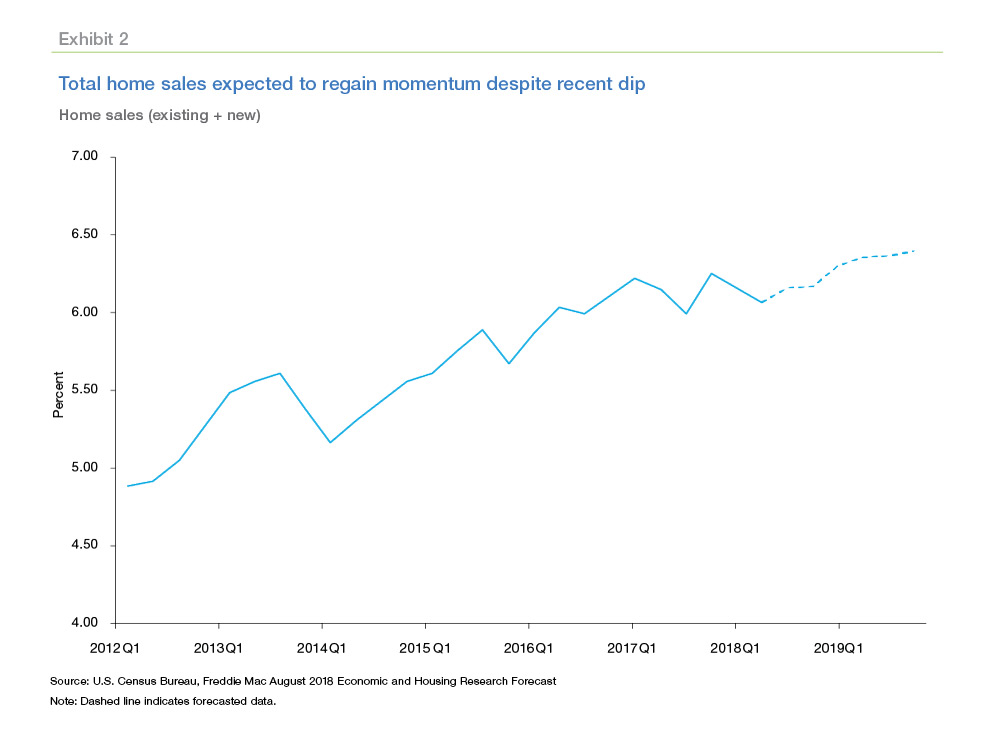 Home price growth was strong in the first quarter of this year, with the Freddie Mac House Price Index (FMHPI) increasing 2.1 percent. This robust growth rate was well above recent gains. For example, the quarterly growth rate in 2017 averaged 1.8 percent. This robust growth was unlikely to persist, and indeed, home price appreciation moderated in the second quarter to 0.9 percent. We forecast that home prices for the year will increase 6 percent, with the growth rate moderating to 4.9 percent next year.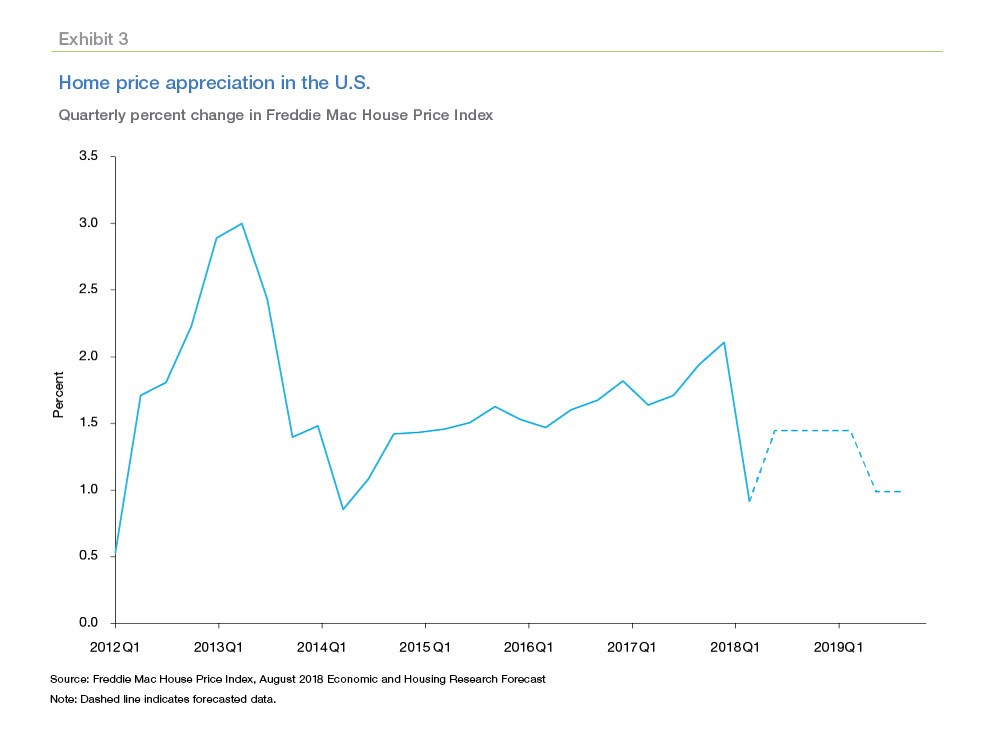 Mortgage originations revised to reflect expected decline
Weaker home sales and house price growth led us to revise down our forecast for 2018 single-family mortgage originations. In this month's forecast, we project these originations to decline to $1.66 trillion (down 8.4 percent year-over-year). We expect that growth in home sales and house prices will push these originations 2.1 percent higher in 2019 to $1.69 trillion.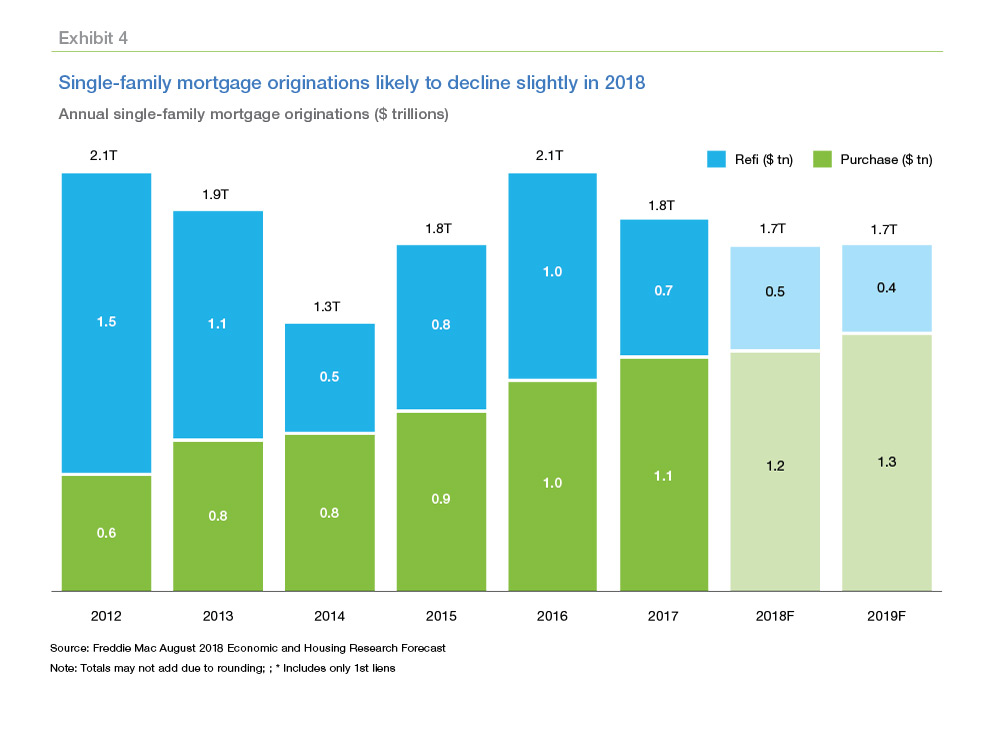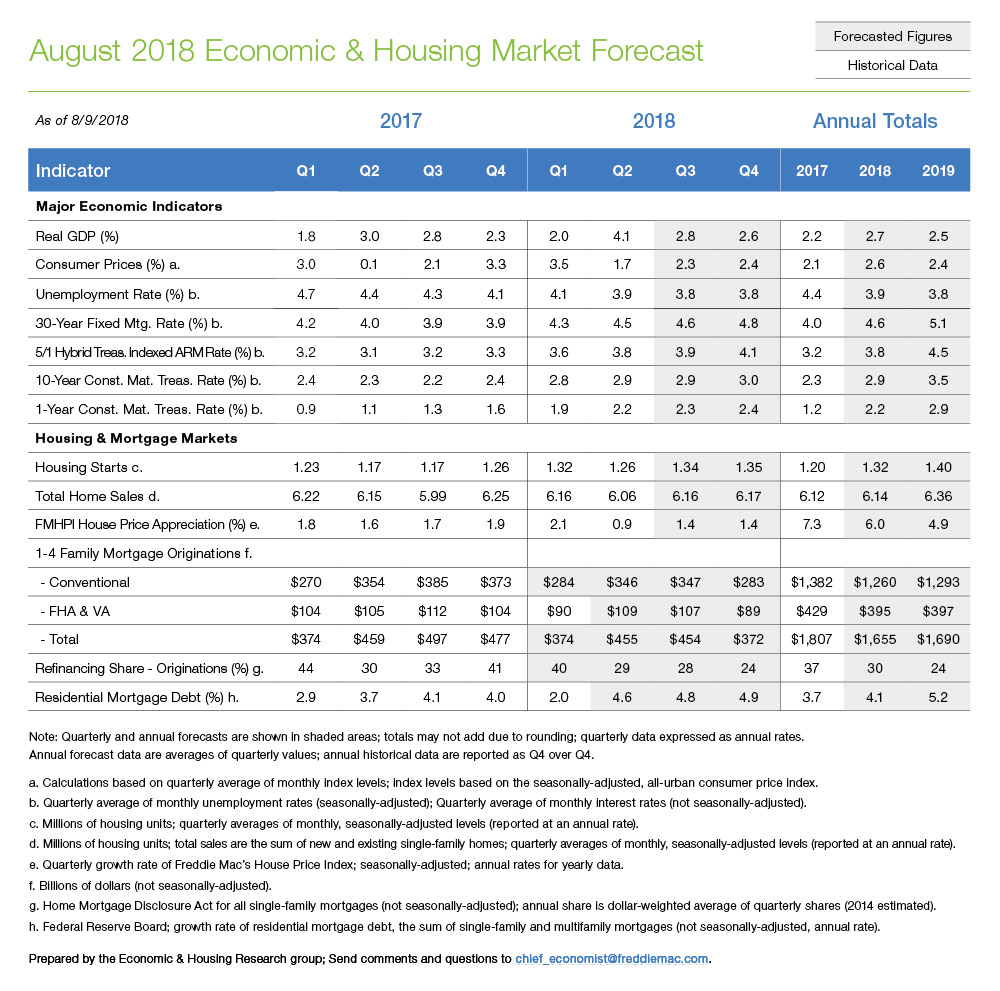 PREPARED BY THE ECONOMIC & HOUSING RESEARCH GROUP
---