Forecast
| October 29, 2018
Economic Growth Slows in Third Quarter
After strong GDP growth in the second quarter of the year, GDP growth is expected to slow to around 3 percent in the third quarter of 2018, down 1.2 percent from the previous quarter.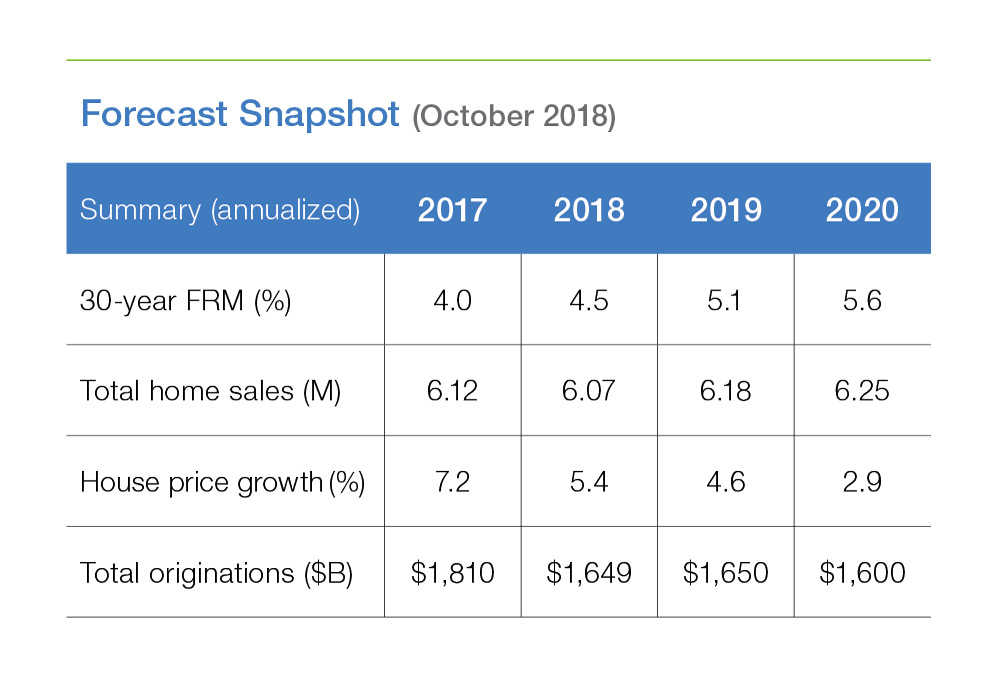 The impact of Hurricane Florence on the mortgage market is expected to be small, causing only a slight temporary dip in growth rate and no major increase in foreclosures, unlike last year's hurricanes. With the end of this year approaching, we have added 2020 estimates to our forecast. We expect the economy to grow at a rate of 3.0 percent for 2018, slowing to 2.4 percent in 2019 and dropping to 1.8 percent in 2020 as the effects of expansionary fiscal policy fade.
In September, the U.S. economy added 134,000 jobs and the unemployment rate declined to a 49-year low of 3.7 percent. Jobless claims remained at record-level lows after a 1-week blip in the downward trend due to claims immediately following the hurricane. The four-week moving average for continuing jobless claims fell to the lowest point in 45 years during September. Payroll growth was weak in September, increasing just 0.3 percent which is inconsistent with the current strong labor conditions. We forecast unemployment to average 3.9 percent for the year and fall slightly to 3.8 percent in 2019 before rising to 4.0 percent in 2020.
Mortgage rates are on the rise
Mortgage rates remained steady at 4.6 percent for the third quarter until the weekly average rate increased to 4.9 percent in the beginning of October, a level that we have not seen since mid-2011. We expect mortgage rates to continue to gradually inch higher. We anticipate that the 30-year fixed-rate mortgage will average 4.5 percent in 2018, rising to 5.1 percent in 2019 and 5.6 percent in 2020.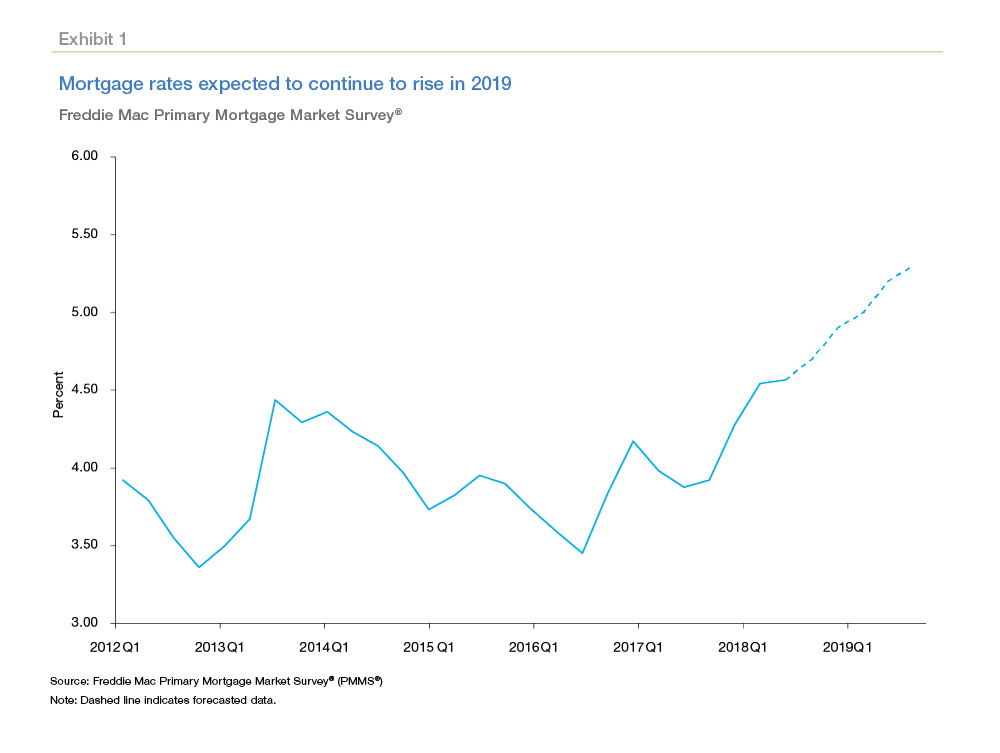 Homes sales slow in the third quarter
After falling for four straight months, existing single-family home sales remained unchanged at 5.34 million in August. New single-family home sales increased 3.5 percent to 629,000, but the overall trend still points downward as the previous month's figures were recently revised down. Housing starts jumped 9.2 percent to 1.28 million in August, though much of the increase is from multifamily homes. Permits fell 5.7 percent to 1.23 million which is a more than one-year low. The slowing of homes sales this year is due mostly to higher borrowing costs and house prices. We expect total home sales to decrease 0.9 percent to 6.07 million in 2018 and then regain momentum, increasing 1.8 percent to 6.18 million in 2019 and increasing 1.1 percent to 6.25 million in 2020.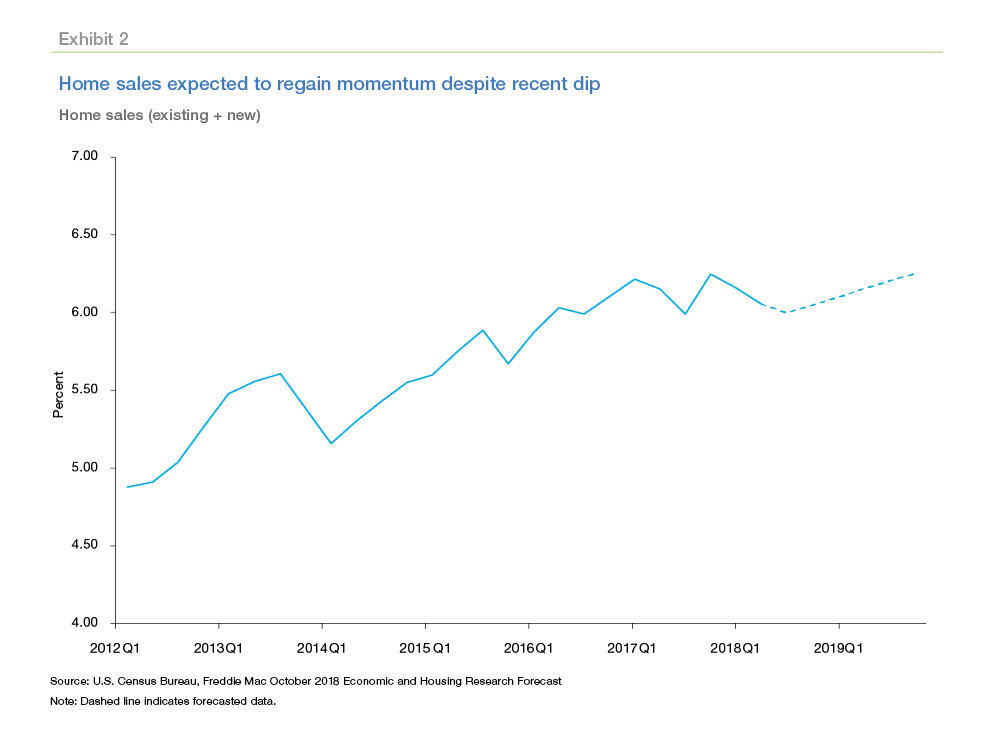 Home price growth remained steady during the third quarter of 2018. The Freddie Mac House Price Index is estimated to have increased 1.0 percent in the third quarter, only a small increase from the second quarter growth. We forecast that home prices will increase 5.4 percent in 2018, with the growth rate slowing slightly to 4.6 percent in 2019 and even further to 2.9 percent in 2020.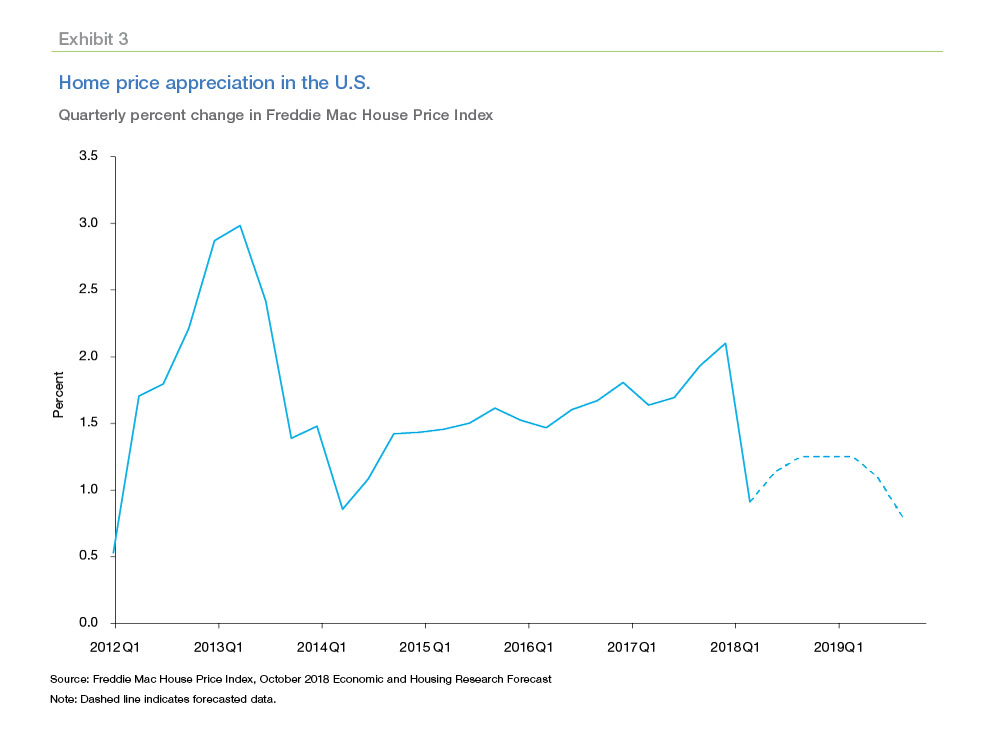 Mortgage originations decrease with weaker home sales and slow home price growth
Rising rates coupled with increasing home prices have discouraged homebuying activity. In our latest outlook, we forecast single-family mortgage originations to decline 8.9 percent year over year to $1.65 trillion in 2018. Originations are expected to remain little changed in 2019 before falling once more to $1.60 trillion in 2020.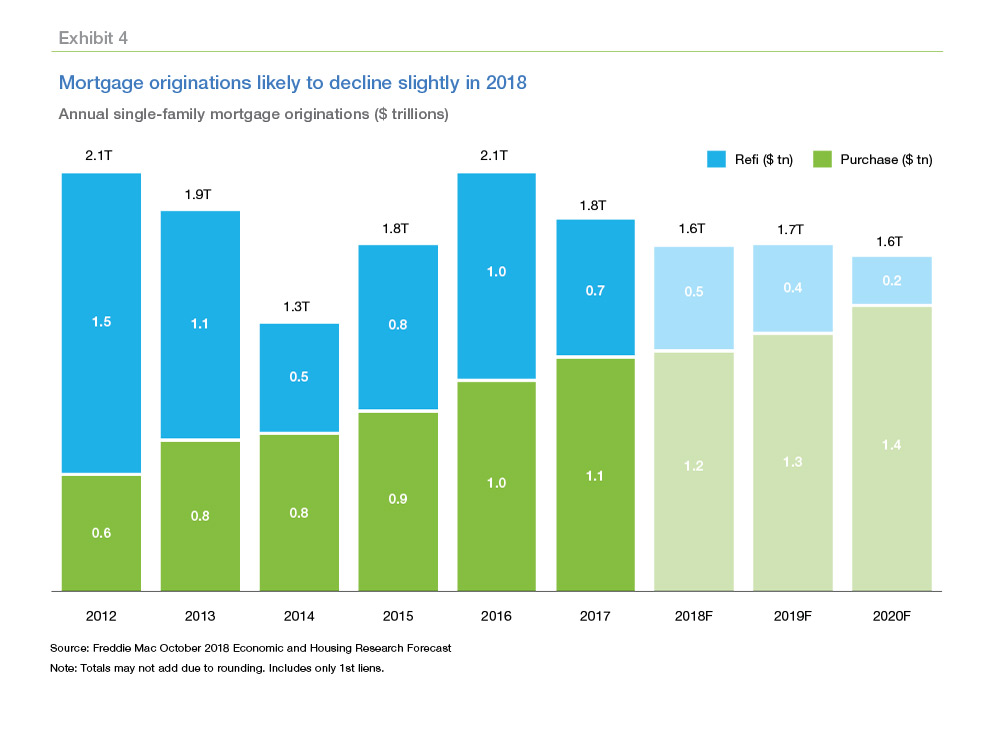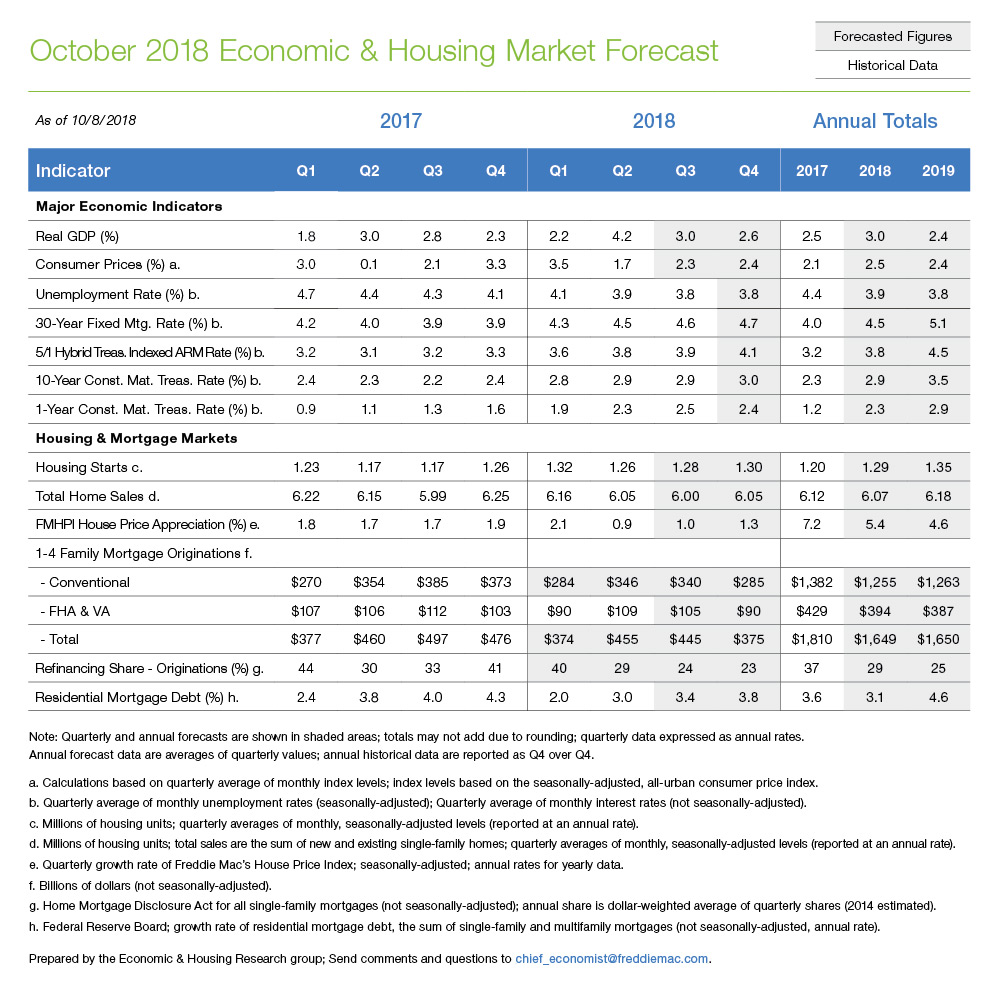 PREPARED BY THE ECONOMIC & HOUSING RESEARCH GROUP
---